KFC crosses off consumers' bucket lists
The Yum! Restaurants brand has launched the "KFC Bucket List" contest, giving consumers the chance to have once in a lifetime experiences.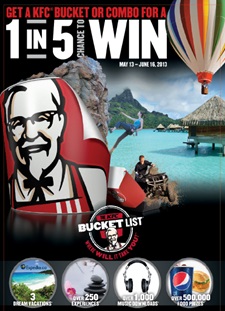 KFC is looking to help Canadians cross some once in a lifetime experiences off their bucket lists with its latest contest, the "KFC Bucket List."
Targeted at adults above the age of 18, the Yum! Restaurants brand's in-store promotion awards consumers with a game piece every time they order a KFC bucket meal or combo. The game piece comes with a PIN code, which can be redeemed for entry into the grand prize draw of one of three $10,000 build-your-own-vacation packages, provided by Expedia.
Consumers also have a one in five chance of being instant winners, with more than 500,000 food prizes, 1,000 free music downloads and 250 bucket list experiences, provided by Try That! (which allows people to purchase various experiences and give them as gifts), up for grabs.
Through social media, consumers can win a $1,000 Try That! experience by sharing their own bucket list ideas on Twitter and Pinterest using the hashtag #KFCBucketList.
With media by MediaCom, creative by Grip that was adapted for French Canada by Brad, and in-store executions by Match Marketing Group, "KFC Bucket List" is supported by a campaign that relies primarily on TV spots on CTV, Global, TSN and HGTV. The campaign also includes radio in key markets like Toronto, Vancouver and Montreal.
David Vivenes, chief marketing officer, Yum! Restaurants International, tells MiC that KFC launched the contest in time for summer because it's an important season for the brand as more Canadians head outdoors.
He says KFC chose a contest because it offered the chance to interact with consumers in a more relevant way around its "so good" brand promise, by giving them an opportunity to experience things they've always wanted to.
Vivenes adds that this is the first time KFC has relied so heavily on Pinterest and Twitter, noting that it wanted to experiment with new ways of starting conversations around the brand.
The promotion runs until June 16.