Spotted! Disney heads back to school
The film studio is promoting the release of Monsters University with a branded school bus touring Toronto.
Walt Disney Studios Canada is inviting children and families aboard with a new experiential activation to promote the upcoming release of Monsters University.
With help from Toronto-based Simon Pure Marketing, the film company is driving awareness for the Monsters Inc. prequel with a Monsters University-branded school bus that's currently travelling around Toronto. The bus is making scheduled stops at locations like the Harbourfront Centre, the Rogers Centre and MuchMusic headquarters, as well as surprise stops at schools and other locations around the city.
When children climb on board the bus, they can build their own monsters, have photos taken with one of the movie's main characters, take scaring lessons and participate in a scream contest to win prizes.
While the school bus is only in Toronto, Disney has teams of brand ambassadors in other markets, including Vancouver, Montreal, Calgary and Edmonton, to offer consumers a similar experience.
The school bus is also being promoted through Disney's Facebook and Twitter channels, Greg Mason, VP of marketing, Walt Disney Studios Canada, tells MiC.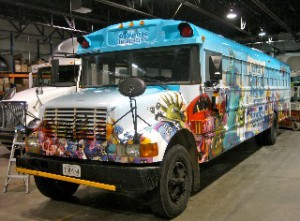 He adds that experiential marketing is a key part of Disney's strategy for any movie release, noting that the Monsters University school bus in particular will help the company bring the movie to life and bring the brand directly to consumers.
Mason says the idea for the experience was inspired by the opening scene of the film, but that it was also seen as a good way to channel an experience that most kids and adults will be able to relate to.
The Monsters University school bus will travel the streets of Toronto until June 16. The movie hits theatres June 21.