W Network boosts second-screen experience with revamped site
The Corus Entertainment specialty network is focusing on second-screen content and editorials to accompany its programming on WNetwork.com.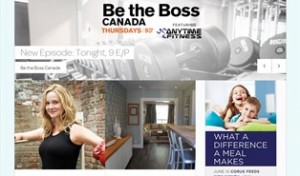 By Georgia Graham
Corus Entertainment's W Network announced yesterday the launch of the revamped WNetwork.com.
The site promises audiences an enhanced second-screen experience to accompany W shows including Love It or List It, Property Brothers and Come Dine With Me Canada, as well as movies.
The site lets fans discuss daily content related to the shows, including editorials tied to each new episode, videos, photo galleries and resource guides. There's also a dedicated section for Shop the Show, which lets audiences purchase products featured in and inspired by W programming.
Video content, like the Property Brothers Bro Cam, behind the scene videos from Undercover Boss Canada and Julian's Faves from Love it or List it Vancouver, is optimized for multiple devices, including desktop, mobile and tablet.
"When we were building up strategy for our new network what we really wanted to respond to was viewers' appetite for more content around their favourite shows and personalities," says Christina Litz, Corus Entertainment VP digital content and engagement.
While Litz was unable to reveal solid numbers, she said that traffic has been good so far for Shop the Show, which launched in March.
Shop the Show lets viewers to find a piece of furniture from Property Brothers, a recipe from Come Dine with Me Canada or an outfit from featured film When in Rome. The site also features special monthly themes such as weddings in June, home renovations in March, and holiday gifts in November.
"It's really there for the fans," Litz says of the site, "to increase loyalty of sustained viewers, making sure we're giving them what they want but also to bring in new fans to the network."
Focused on women aged 25 to 54 the site's advertising options include site sponsorship as well as home page takeovers. On desktop, advertisers can customize campaigns via super leaderboard, double big boxes and standard ad units as well as standard ad units across tablet and mobile.
"I don't think there is any lifestyle brand out there that can really provide a multi-screen solution." said Litz, "When you combine the power of women's digital assets and television, we really have an unrivaled offering for advertisers in the market."
Along with the expanded site, W will launch three new weekly newsletters including Dinner and a Movie which features recipes inspired by the Saturday night W featured movie.
From Playback Daily