Canada wins five more Cannes Lions
Touche! PHD, Grey Group Canada and Lg2 take home Bronze and Silver awards in the Media, Mobile and Outdoor categories Tuesday evening in Cannes.
By Jennifer Horn and Val Maloney
Canada added another five Cannes Lions to its tally of awards Tuesday, bringing the total to seven, with Tribal DDB and Anomaly having taken home hardware for work for McDonald's and Labatt, respectively, on Monday evening.
Media
Canada also took home two Bronze Lions in the Media category, with Grey Group Canada's work for Diageo's Guinness "Window Pints" and Touche! PHD's "Your Better Starts Here" work for Sport Chek both winning a prize.
The Guinness campaign used the insight that most office windows have white blinds, adjusting them to a certain height and adding clear Guinness decals to the windows make it look like a pint of beer (the white blinds mimicked the head of the beer, and the dark office represented the liquid) to passersby.
The Sport Chek project introduced a new tagline for the brand, "Your Better Starts Here," targeting 500 locations and marking on the ground where a quest for a new self began, meant to look like  starting line. It was supported by sport specific videos on digital and TV.
Media jury president and chairman of VivaKi, Jack Klues, said the jury was looking for big ideas rather than "painted rocks" that look like something but aren't actually worth anything.
He said the jury, which totaled 40 between the new two-stage judging process for this year's Media Lions, was also searching for work that was inspiring, unique, scaleable and measurable, among other factors.
The Grand Prix in Media went to Ogilvy & Mather Amsterdam's "Why Wait Until it's too Late?" work for Funeral Insurance Company Dela. The project gave people the opportunity to say the nice things people say after their loved ones have died, while they are still alive. The company used footage of people surprising their loved ones in digital and TV spots, and asked Dutch people to write letters to their loved ones via print ads, later turning those letters into OOH transit ads.
Mobile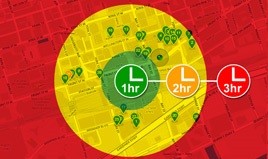 Grey Group Canada has joined the winners' circle, taking home a Silver Lion in the Mobile category Tuesday evening for its work for Missing Children Society of Canada.
An evolution of the organization's "The World's Most Valuable Network," which took home a Bronze last year, the "Most Valuable Check-In" campaign used Foursquare to send alert notifications to users when in the vicinity of a missing child. Success of the mobile campaign was measured through the finding of six missing children within the first five months of its launch.
Though the Cannes Mobile category is only in its second year, jury president Rei Inamoto, CCO and VP of AKQA, expressed that it's the "most pervasive" category at the fest, adding that the jury wished they had seen more cases rooted in paid media and a demonstration of new ways to monetize mobile, beyond just banner ads.
The jury also addressed trends in the category this year, pointing to an abundance of campaigns that built on insights, but a disappointing lack of invention in mobile. In addition, they saw a range of projects that created a new space around mobile (such as when Gold winner Scrabble in France set up Wi-Fi spots for people to access the internet if they create a seven-letter word on their phones), not simply using devices, but looking beyond the confines of the space itself.
Grand Prix for the category went to SMART Communications, a Philippines wireless service provider, for its "TEXTBKS" (or "textbooks") project. The cause marketing campaign provided a low-tech solution for families unable to purchase textbooks by collaborating with authors and publishers to refine school books into 160-character text messages. Then, the telco and its agency DDB Makati City programmed the shortened books into inactive SIM cards and supplied them to partner schools.
The judges explained why they were drawn to the campaign, saying that it was chosen as the top winner for its simplistic take on mobile, and even though it was not the most technologically-advanced work, it solved a business problem in a clean and efficient way.
Outdoor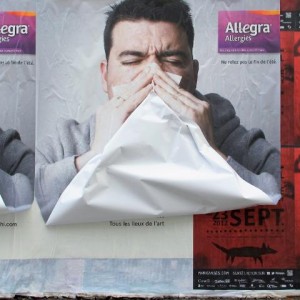 Out of the four shortlist mentions in the Outdoor category, Lg2 snagged two Bronze prizes, one for its "Tissue" poster for Allegra and another for the "1988," "1991″ and "1993″ print ads for the Quebec Automobile Insurance Corporation.
The Quebec agency created a makeshift tissue out of a paper poster for the Allegra campaign, showing a photograph of a man using the ad to blow his nose. "We all loved that [the agency] took a classic poster and [had it] use itself to create an experience," says Tony Granger, jury president and global CCO of Young & Rubicam. "We looked at it as a Silver but we decided to give it a Bronze in the end. It just felt a little low-tech [in] the way it had been presented [to the judges]. I would have shot a photograph of it from the side so you could actually see the fold."
And for Quebec Automobile Insurance Corporation, the creative shop created ads that showed the torso of a driver strapped in with their date of birth on their shirt and a seatbelt covering the year of their death (indicating a long life if they remember to buckle up). "The seatbelt [campaign] was very graphic, people loved the simplicity of it, it was really well done," he added.
For the Grand Prix, it was a toss-up between three very strong executions, Granger said to media at a Tuesday afternoon press conference. "You have more chance (one in 3,000) of being hit by lightning, than winning a Grand Prix in Outdoor," he added, applauding IBM for taking home the top prize over the 5,613 entries this year. The brand's "Bench," "Shelter" and "Ramp" billboards were shown extended and warped to create an actual bench for people to sit on, a shelter from the rain and a stair ramp for those in wheelchairs. Granger noted the jury was impressed by the way the agency, Ogilvy France, was able to use the creative to bring the strategy of "Smart Ideas for Smarter Cities" to life.