Canada picks up more Gold
Grip Limited gets Gold in Branded Content, with Canada also picking up prizes in Film and Titanium & Integrated on the last night of awards in Cannes.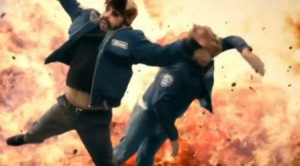 By Mary Maddever and Val Maloney
Canada brought home another five Lions on the last night of awards in Cannes, incuding two Golds for Kokanee's "The Movie out Here," which also won a Silver in Cyber earlier in the week.
Branded Content & Entertainment
Canada won two Golds in the category, both for Kokanee's "The Movie Out Here" by Grip Limited with production by Infinity Films in Vancouver and Section Eight in Toronto. The movie won in Best fictional program, series or film where a client has successfully created a drama, comedy or miniseries around a product or brand as well as Best Integrated Content Campaign.
The category, which is only in its second year at the festival was led by Scott Donaton, president and CEO at Ensemble who said the Labatt campaign was in contention for the Grand Prix because of the integrated campaign that was built around the movie, but failed to make it because the movie "fell a little short."
The Grand Pix in the category, Pereira & O'Dell's "The Beauty Inside" for Intel + Toshiba, also took one of the two Grand Prix awarded in Film as well as taking the top prize in Cyber earlier in the week. Donaton said the Grand Prix winner was born out of a brand truth that it's what inside that counts and added that these two brands were the only ones who could have made the six-part branded digital video campaign work.
Film
In addition to Dell + Intel's digital project, the Film jury led by Sir John Hegarty, co-founder of Bartle Bogle Hegarty also awarded McCann Melbourne's "Dumb Ways to Die" for Metro Trains with a Grand Prix.
Canadian jury member Judy John, CEO/Chief Creative Officer at Leo Burnett Canada, says she feels "optimistic" every time she sees the animated spot, adding "I think they delivered a really great message in a way we have never seen."
Canada got two more Bronze Lion nods in the category, one campaign win going to DDB Canada for its "Mustang" and "Curfew" spots for Cialis. John says the jury members laughed at the spots and liked the subtlety and problem solving behind them, working around the Canadian regulations that stipulate the actors in the film can't interact physically though it is promoting a drug for erectile dysfunction.
Also winning from Canada was Draftfcb's "Focus Group" for the National Advertising Awards.
"When it came up everyone laughed and it spoke to the jury in terms of the insight," said John. "It was Sir John Hegarty who made a passion plea for it and said it was a good piece."
John said the number of Canadian award winners doesn't reflect the talent in the country, but says clients and agencies need to focus more on persuading people with good storytelling in spots and not just promoting to them.
"In Cannes it is called Film, it's not called TV commercials. It's about entertaining and Hegarty always says it is about persuasion first and then promotion. I find in Canada we are promoting and sometimes not even trying to persuade. We aren't inviting the viewer to come in and be entertained."
Johns says that is why a lot of work falls off the table. "There needs to be more of a move towards making content. Even though it's on TV, I am also on my laptop, tablet and phone. It's so archaic the way some people think about TV is that you're just waiting for the commercial to come on, that doesn't happen anymore. I would urge clients to do something entertaining and shareable. It's not just about hammering it over and over again. I think about it like going on a date, you don't just launch right into it, there has to be an element of entertainment."
Titanium & Integrated
In the most coveted Lions category Titanium and Integrated, where only 13 awards were doled out among 437 entries, Canada won a Bronze Integrated Lion for the Ministry of Health and Long-term Care's "Social Smoking" campaign out of BBDO Toronto.
BBDO CCO David Lubars, one of four US jurors on the 10-person panel, said the whole premise of the campaign (illustrating the delusional aspect of social smoking via social farting parody) "made it so obvious it was stupid", adding that "the best pieces have a universal truth."
The Integrated Grand Prix went to "Dumb Ways to Die" by McCann Melbourne for its Metro Train's safety push that swept multiple categories at Cannes. The ditty and its cute accident-prone characters became the world's most viewed video, and its many touchpoints – OOH, a mobile game, a book for kids, karaoke at train stations – drove nearly a million people to pledge to be safe around trains. It became a teaching tool, got radio play, and over 200 cover versions of the jingle were made, and is touted as the most shared PSA in history, responsible for reducing accidents and deaths by over 20%.
Wieden+Kennedy co-founder Dan Wieden, who helped frame the Titanium and Integrated category and came back to preside over it for his final round of judging, says not only was it the most integrated campaign they saw, "it goes deeper, and tried to be empathetic."
The same is true of "Real Beauty Sketches" out of Ogilvy Brazil. The Unilever Dove campaign won Titanium Grand Prix and Integrated Gold, and has also been racking up Lions across the many categories of Cannes for its massive buzz. It's the fourth most shared ad of all time, with 3.8 million global impressions.
Wieden explained that when the category was first created Titanium was supposed to be singular thing, but started spreading, so they tried to give it more focus this year, with Lions only going to work that is truly transformational – not just for agencies and for brands, but for consumers. "When we took the focus of serving the customers, the work fell easily into place, and we felt pretty darn good about it." Lubars adds that all five Titanium pieces are about showing respect to the consumer.
Jose Miguel Sokoloff of Low SSP3 says, "this time we tried to make a list of five things that should be looked at together, five things that point to the right way but from very different angles." He described Titanium this year as being more humble, and for Integrated, observed "we have a tendency to fill up every space," and that respect was evident in that category by being "in the places we need to be intelligently, not just because we have to."
Publicis' international CD Erik Vervroegen says, "if you look at the quality of the work, you can see more and more respect for the audience, and I think that's the best thing for the industry."
When strategy asked if the Titanium's message about the the way forward has shifted from tech towards cause and doing good, such as Titanium winner Samsung Life Insurance's "Bridge of Life" out of Cheil, Wieden says that if you go down the line in the Titanium category and look at the work – citing Prudential's "Challenge Lab" out of Droga5, which tries to understand why consumers are not making good retirement saving decisions – he says they all show a different kind of focus: "how do we help the people we serve?"
Leo Burnett CCO Susan Credle adds, "I think we're going from the product needing to have value in the consumers lives, to the communication needing to have meaning in consumers lives."
But at the end of day, as per Wieden "at some point you're picking things based on magic – it made you think in a different way that you weren't prepared to think. There's no cookbook for that kind of thing, it just happens."
Film Craft
The Grand Prix in the category went to 4creative London for its "Meet the Superhumans" spot for Cannel 4 in the UK. The spot introduced people in the country to the athletes participating in the London 2012 Paralympic Games.
The Grand Prix for Good went to BBDO Germany for WWF. Lee Clow, chairman of TBWA\Media Arts Lab and global director of Media Arts for TBWA\Worldwide,receieved the Lion of St. Mark.
Agency Network of the Year went to Ogilvy & Mather, Wieden + Kennedy took Independent Agency of the Year. Holding Company of the Year went to WPP.
In total Canada took home 30 Lions this year, including the Silver in Young Lions Film and a Bronze for the Young Marketers. That bests last year's total count by 10 Lions.