Holiday Inn Express gets smart
The hotel chain has revived its "Stay Smart" campaign with a microsite that pits Canadian inventions against each other and a partnership with Just for Laughs.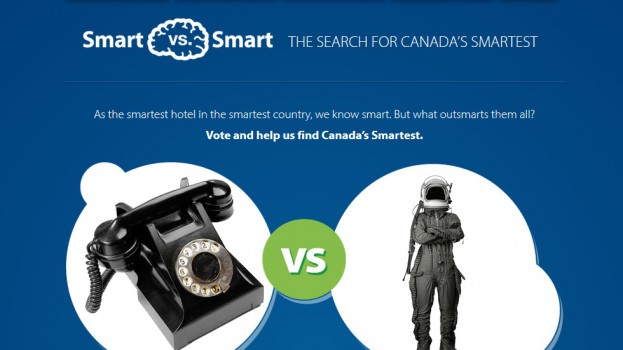 Holiday Inn Express is promoting itself as a smart choice for visitors with a revival of its "Stay Smart" campaign and brand message.
"Stay Smart" first launched 10 years ago, ran for about five years and featured videos like "Freestyly Rap Battle" (which was only recently uploaded to YouTube in May and has since received almost 600,000 views). Jo Allan, director of brands marketing in the Americas, IHG, tells MiC that since the "Stay Smart" message still seemed to resonate with Canadians, it made sense to relaunch it with an extra Canadian twist.
With media by Neo@Ogilvy, creative by OgilvyOne and contesting by OgilvyAction, the campaign is targeted at casual and business travellers, aged 25 to 45. It relies primarily on a microsite, which pits "smart" Canadian inventions against each other, allowing visitors to submit their own ideas and vote for a chance to win one of 14 weekly prizes of a two-night stay at any Holiday Inn Express hotel in the world.
Allan says the goal for the brand was to compare these smart Canadian inventions to things that make staying at a Holiday Inn Express hotel a smart idea, including free Wi-Fi and hot breakfast.
The campaign is supported by digital spots on travel sites like Tripadvisor.ca and social networks like LinkedIn and Facebook, as well as OOH ads in Toronto, Vancouver, Montreal and Halifax.
Holiday Inn Express has also signed on as a sponsor of the Just For Laughs National Tour and Just For Laughs 42, and will bring its contesting across Canada, allowing people to vote for the smartest comedians and jokes for their chance to win prizes. It will also leverage Just For Laughs' radio promotions to offer additional contesting.
Allan says sponsoring Just For Laughs was a good fit for the light-hearted message of the "Stay Smart" campaign, adding that it also allows Holiday Inn Express to position itself as a brand that supports Canadian talent.
She says that this iteration of the "Stay Smart" campaign is naturally much more social and digitally-focused, because Holiday Inn Express wanted an opportunity to let consumers be co-creators with the brand. She adds that digital was a natural fit for the campaign given that Canadians are consuming more content and booking more travel online, but notes that OOH is still a key medium for the hotel to reach potential customers who are travelling and looking for a hotel.
The campaign will run until the end of the year.