Spotted! Mini Canada takes a ride
The car company took its "Not Normal" tagline to the streets of Toronto, with people riding the cars like an amusement park rollercoaster.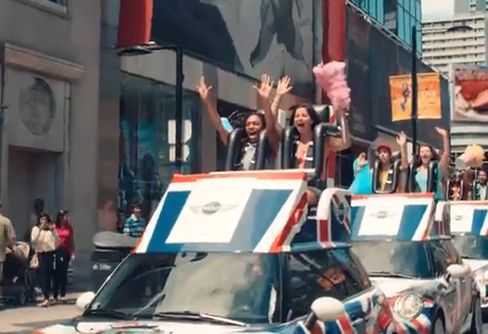 What do you get when you cross Mini Canada's new tagline of "Not Normal" with the idea that the car corners like it's on rails? Well, if you're Anomaly and Media Experts you come up with the recent Toronto execution of having a train of three Mini Cooper S cars drive through high-traffic locations with people seated on the tops of the cars like they are riding a rollercoaster.
An extension of the "Not Normal" campaign targeting urban males aged 25 to 54 that launched with a cinema spot earlier this summer, the street-level execution was shot in an attempt to garner both in-person and social media attention, Dave Douglass, ECD, Anomaly, tells MiC.
Cars in the execution were retrofitted with work from Toronto-based production company Asymetric to create the faux-rollercoaster, with modifications that included removal of the rear seats and parts of the roof, welding of new rollercoaster frames, adding external speakers, custom rollercoaster carts and bright and ambient LEDs, according to a release on the execution.
Douglass adds that the stunt may be picked up by other dealers across the country.