Rogers names Guy Laurence president and CEO
The telecom-media co selects the former Vodafone UK exec to replace current CEO Nadir Mohamed, who announced his retirement earlier this year.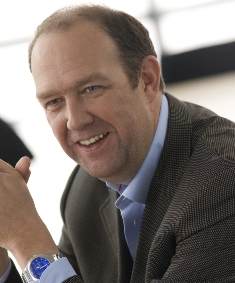 Following a lengthy search, Rogers Communications today named former Vodafone UK exec Guy Laurence as the company's new president and CEO.
Laurence succeeds current CEO and president Nadir Mohamed, who announced earlier this year that he would retire in January 2014.
Laurence comes to Rogers with a wealth of telecom and media experience, including running the UK division of Vodafone, a global mobile-focused telecom company, since 2008. Prior to starting with Vodafone, which he joined in 2000, he held executive positions at MGM Studios and Universal/Paramount Cinemas.
That combined skill set is critical to Rogers Communications, which operates conventional and specialty television channels, a large print and online publishing division and sports entertainment alongside its cable and wireless operations.
Nadir Mohamed steps away from the CEO role after replacing company founder Ted Rogers in 2009.
In a statement accompanying the announcement, Laurence referenced the company's cross-platform operations as a focus going forward.
"Its unique mix of wireless, cable and media assets offer a brilliant platform to provide innovative service to Canadians," he said. "I intend to build on the strong foundation established under Nadir's leadership to compete and win in the market."
Laurence's appointment is effective Dec. 2, 2013.
From Playback Daily