Spotted! Blue Ant Media gets historical for Smithsonian
The media co is bringing people and items that can be found at the Smithsonian to life to promote the launch of the channel of the same name in Canada.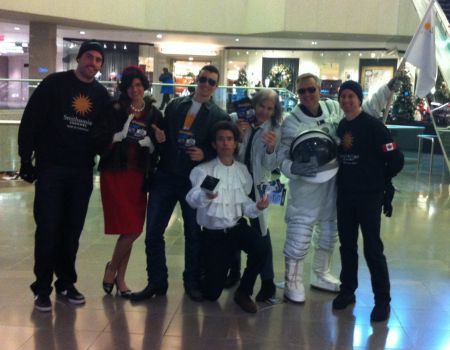 Blue Ant Media is celebrating today's launch of the Smithsonian Channel in Canada with a campaign that includes bringing people and artefacts that can be found in the museum to life on the streets of Toronto and Vancouver.
With media by Gaggi Media and experiential from Arts & Communication in Toronto, the campaign, with creative done in-house, launched today with people dressed like Jacqueline Kennedy Onassis, an astronaut, a scientist, the Fonz and someone wearing a shirt like Seinfeld's iconic puffy shirt promoting the new channel to travellers going through Toronto's Union Station. The characters all represent things both found in the Smithsonian and topics that will be covered on the channel, like pop culture, science and space.
Jamie Schouela, EVP of marketing and communications, Blue Ant Media, tells MiC the campaign and channel are zeroing in on males aged 25 to 54, with additional elements including digital pre-roll, print ads in national daily titles and Maclean's and elevator ads in buildings throughout downtown Toronto.
In addition to promoting the launch of the channel to consumers in Toronto and Vancouver, the street teams are also telling people about a contest that gives them the chance to win a trip to the Smithsonian in Washington. When people like the channel's Facebook page or follow it on Twitter they are automatically entered to win.
The Smithsonian Channel is launching in Canada as a result of a partnership between Blue Ant Media and Smithsonian Networks. Commercial-free, the channel has sponsorship and content marketing opportunities available. The channel's Canadian launch is its first outside of the US.