OMD Canada takes two at the CMAs
The media co's work for McDonald's Canada's "Our Food. Your Questions" campaign won two awards at the show.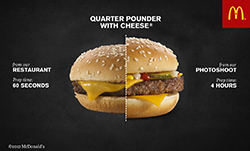 OMD Canada took home two Golds for its work on McDonald's Canada's "Our Food. Your Questions" campaign at Friday night's 43rd Canadian Marketing Association (CMA) awards gala. The agency took a Gold in Retail and one in Consumer Products: Food and Beverage.
The campaign, which invites consumers to ask any and every McDonald's-related question they have with the brand responding online, created by agency Tribal Worldwide, was also given the CMA Best of the Best title a Friday night's show.
Before taking home the CMA's top honour, McDonald's and its creative agency Tribal Worldwide made multiple trips to the stage to accept a collection of nine Gold trophies as well as a Silver for the campaign in categories Consumer Products (Food & Beverage) and Retail.
"No question was left off the table," said John Gustavson, president and CEO at the CMAs. "McDonald's developed a transparent campaign that changed peoples' perceptions of the brand and delivered impressive results."
To top off the night, the CMA awarded Dani Reiss, president and CEO of Canada Goose, this year's Marketer of the Year title. The top prize was awarded to Reiss as a result of his impressive leadership and marketing acumen, according to a release. "Canada Goose is an inspirational Canadian success story that has combined grassroots marketing with some made-in-Canada style envy to create an iconic homegrown product desirable around the world," said Gustavson.
Below are the Gold winners in the various categories within the nine disciplines including Advertising, Digital and Integrated. To see the full list of CMA award winners, which includes Silver and Bronze, click here.
Gold winners in the Automotive category:
BMW Group Canada
"Bullet"
Cundari
Subaru Canada
Subaru Forester "Family Rally"
DDB Canada, Tribal Worldwide
Audi Canada
"MyAudi Tracker"
BIMM
x 2 Gold
Audi Canada
"Quattro Experience"
Zulu Alpha Kilo
Audi Canada
"Land of quattro" campaign
Zulu Alpha Kilo
Gold winners in the Consumer Products (Food & Beverage) category (excluding the aforementioned McDonald's/Tribal Worldwide Gold wins):
James Ready
"Cover Photo Swap"
Leo Burnett, Toronto
James Ready
"50% Awesomer Coasters"
Leo Burnett, Toronto
Gold winners in the Consumer Products (General) category:
Labatt Breweries of Canada
Budweiser "Red Lights"
Anomaly
x 2 Gold
Stanfield's
"The Gitchhiker"
John st.
Unilever
Dove "Photoshop Action"
Ogilvy & Mather/Ogilvy One
Unilever 
"Women Who Should Be Famous"
Ogilvy & Mather/OgilvyOne
Sony Computer Entertainment Canada
PlayStation "Holiday Button"
Noise Digital
Gold winners in the Business Products and Services category:
La Carnita
"La Carnita"
OneMethod
x 3 Gold
Amir Johnson
"Amir Johnson"
OneMethod
John St.
"Buyral"
John St.
Gold winners in the Consumer Services category:
Canadian Tourism Commission (CTC)
35 Million Directors
DDB Canada
x 4
Aeroplan 
Aeroplan "Milestones"
Cossette
Labatt Breweries of Canada
Kokanee The Movie Out Here
Grip Limited
Gold winners in the Financial category:
Scotiabank
Richness Is
Bensimon Byrne
x 2 Gold
Scotiabank 
Summer of SCENE
Bensimon Byrne
x 2 Gold
Scotiabank 
Mobile
DDB RAPP Canada
MasterCard Canada
MasterCard's "Stylicity"
MacLaren McCann
Royal Canadian Mint
The MintChip Challenge
Gold winners in the NFP/Fundraising/Public Service category:
The Heart and Stroke Foundation of Canada
"Make Health Last"
Lowe Roche
Heart and Stroke Foundation Ontario
"The Undeading"
Agency59
x 2 Gold
NABS 
Over Qualified Interns – Direct Mail
Zulu Alpha Kilo
Raising The Roof
The Street House
Leo Burnett, Toronto
Ministry of Health & Long-Term Care
"Social Smoking"
BBDO Toronto/Proximity Canada
Gold winner in the Pro Bono category:
Raising The Roof
"The Street House"
Leo Burnett, Toronto
Gold winner in the Retail category (excluding the aforementioned McDonald's/Tribal Worldwide Gold wins):
IKEA
"Human Coupons"
Leo Burnett, Toronto
x 2 Golds
The winner of the Canada Post Direct Mail award:
Rogers Communications Inc. 
Tablets for Mums
WÜRSTLINGROUP