The strategy behind Much's comedy lineup
Justin Stockman of Bell Media explains why the music station is stacking the schedule with laughs.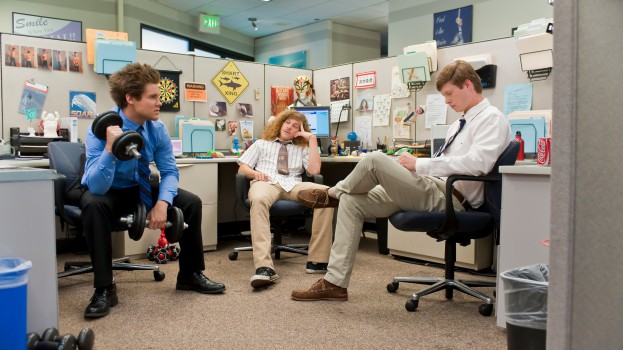 Last week, Bell Media's premiere TV youth brand, Much, took another small step away from its music-oriented origins with the announcement of a new Wednesday night comedy lineup featuring the cable hit Workaholics (pictured), cult-adored hospital drama parody Children's Hospital and the new series from executive producer Amy Poehler, Broad City. The programming news follows a trend towards comedy that started in fall 2013 with the addition of Tosh.0, South Park and Conan to Much's lineup.
MiC spoke to Justin Stockman, executive director, music and entertainment, Bell Media, about comedy additions, how it will remain distinctive from sister station Comedy, and why Much thinks the brand tweak will have them laughing all the way to the bank.
Here are the key take-aways from the conversation:
Young people increasingly define their identity based on what kind of humour they like.
"We've been doing a lot of research on our audience and trends and what we found is that with young people, humour has become a key identifier – 'I'm this type of person or I'm that type of person' - depending on what kind of humour you like. Sort of the same way music used to be for people before music became so à la carte that you can like 10,000 different types of music. We were seeing humour shows really deliver young audiences, so we knew it was something they wanted. Because Much was already so firmly planted in pop culture, it was an easy pivot where we've still got music and pop culture, but we injected this humour layer onto it."
Behaviours and interests of the youth demographic have evolved.
"(Much) is still a 12 to 34 targeted channel but we do know from our research that the audience has changed. A few years ago young people really valued their very own type of programming or content than what, say, their parents were watching. That really changed where young people are watching the same things that older people are watching. So we just had to figure out how we maintain our status clearly still being a youth brand but with a slightly more mature sensibility that was still able to reach our audience."
The Much brand will remain distinct from its sister station, Comedy.
"We've done this work internally to make sure that we can clearly define the two stations. What we were finding was really delivering on Comedy was the pure stand-up, the very traditional comedy (formats), like the stand-up series we have on weekends, Amy Schumer, the roasts, plus the smart, more mature stuff like The Daily Show with Jon Stewart, @Midnight, and The Colbert Report, as well as the broad-based sitcoms, like The Big Bang Theory second window, plus we've added Parks & Recreation.
"Much is more pop culture, on-trend, and buzz-worthy. Tosh.0 and South Park are perfect examples because every week they're talking about something that's happening right now. It felt like there was a real clear divide for us that we could really draw the line.
"Comedy is an 18 to 49 targeted channel, Much is 12 to 34, so a lot of those decisions (about which show should go to which channel) are based on which audience we think is going to be drawn to it."
Advertisers are on board with the shift.
"As we were making the changes we did a full agency road show, starting in August and running through the fall. Myself and someone from our programming team as well as our whole sales team met with every single client in Toronto and took them through the changes, took them into some in-depth research that has lead us to these changes and walked them through it. Everyone was very enthusiastic and the ratings are up significantly, so we know it is working. Now it's about reinforcing and continuing on with this tweak to our brand with having this undercurrent of humour with music and pop-culture, how it's all going to blend together."
The interview has been condensed and edited for space and clarity.