Insights from the launch of Globe Now
The Globe and Mail's new daily video series will launch mid-roll ad units later this month.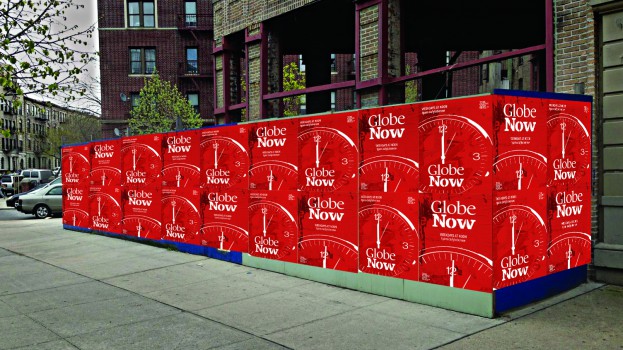 Last week, the Globe and Mail launched its new daily video series Globe Now. The new launch has the newspaper posting a six- to eight-minute video every weekday at noon, with host Affan Chowdhry walking viewers through three segments.
The series is being promoted with a media campaign digital display on both Globeandmail.com as well as external networks, OOH executions in downtown Toronto including wild postings and digital boards in The Path, as well as some paid promotions on Twitter and LinkedIn. Media is handled by Gaggi and creative by Naked.
Lexus is the exclusive sponsor of Globe Now for the first three months. A mid-roll video ad unit, to run after the first story, will be introduced to Globe Now in mid-April and open to other clients after the contract with the car co is up. The luxury auto brand is currently activating with a static pre-roll bumper and burned-in logo in the video frame. Young says the Globe likes what it sees from research in regards to mid-roll's performance and engagement.
Young says Globe Now was built to serve the Globe's audience of adults 25 to 54, but expects the series will pay off particularly with readers 25 to 34, citing research that has shown that demo is hungry for video content.
Cynthia Young, director of advertising products and innovation, the Globe and Mail, tells MiC the series was planned to hit mid-day to match how people are visiting the site. "A significant amount of returning Globe traffic comes daily, repeatedly at similar times of the day from similar platforms such as desktop, mobile and tablet," she says. "Against this insight, we timed Globe Now to start at noon daily."
The stories reported within the series are also posted as their own distinct videos, something Young says will facilitate better social sharing because the different segments will appeal to different parts of the Globe's audience. A Game of Thrones segment from Friday's episode was the most recommended story on globeandmail.com for a period of time, says Young.
Young says that, in general, Globe-produced videos have much higher engagement rates than video stories from other sources on the site. "We've tracked and looked at the way users come to our site and we believe there's an appetite there," she says. "The average visitor to globeandmail.com watches several videos per visit and we've seen higher completion rates and viewing numbers for Globe produced video," she says.