What are your followers sharing?: blog
Paul Cowan SVP of client development at Performance Content Group, analyzes one million followers of 52 branded Twitter accounts and comes up with some unsettling results.
Paul Cowan is the SVP of client development at Performance Content Group. The newly minted member of the audience intelligence and content analytics firm took the time to dig deep into the follower quality of 52 branded Twitter accounts to check on what they are sharing. Read on for his analysis.
By Paul Cowan
The great part about analyzing data is the surprising things you stumble across. My company conducts analysis on programmatic ad purchasing and social data to help marketers understand the content consumption behaviours of their audiences. This helps marketers understand who their key targets are and the content they consume in an effort to have more effective messaging.
Recently, we've noticed an abundance of promotional content appearing on Twitter and decided to investigate it further. We took a sample of over one million followers of 52 Twitter accounts from various global, Canadian and US brands and analyzed the content that those followers shared. Specifically, the links that the followers wanted to spread across their network.
We saw that 52,000 of 308,000 URLs that were being shared were promotional in nature. The top 10 URLs shared (see below) was an interesting mix of "unfollow" platforms, promotional platforms pimping out contests, and moms pimping out giveaways. At first glance this may seem fine, but it raises the question of whether marketers really know who their social audiences are and what they doing to ensure they are attracting the right audiences and communicating the right messages.

Who is it: The Vain and Contest Spambots
The Vain:
The unfollower tracking phenomena seems to be generated through the app publishing to their customer's newsfeed. It is not a huge surprise, but the fact that so much sharing activity is generated gives quite an indicator on the obsessiveness of people tracking their follower activity and the fundamental self-absorption of today's social consumer.

Contest Spambots:
These people (or bots, sometimes it's very hard to tell the difference) are quite prolific in sharing giveaways and contests. From a brand standpoint, the most frequent companies shared over the past few months are Canadian Tire, Lowes and Wonga. We don't know if these people are being paid, or they are doing it for their love of contests, but many of their profiles only contain posts pertaining to contests and giveaways from other companies.  The main thing to note is that these people don't appear to be the most loyal customers, if they are customers at all.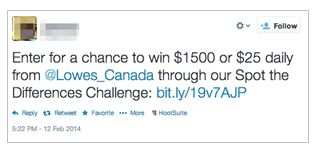 So what?  Well, this may just be a death rattle.
We need to make sure we are watching the canary in the coalmine. It is easy now as a brand marketer to use social to push out content according to a calendar and drive engagement through contests. The danger in this is losing relevance for your audience and becoming one of those publishers who becomes wallpaper in the ebb and flow of content newsfeeds.
What can you do? Understand your audience.

This may seem obvious, but as marketers we often get absorbed with the brilliance of our content strategies that we forget about the audience and their core motivations. We also  often don't spend enough time segmenting our audiences into actionable clusters, but instead focus on generic conceptual targets or target descriptions.
Invest in understanding your customers and segmenting them based on their life-stage, interests or value. Present them with content that they want to engage with based on their historical engagement; utilizing the data you have at your disposal to help predict content relevance.
Oh, and make sure that you aren't paying for spambots to promote your contests.