Rogers Communications' Phil Lind to exit as regulatory chief
The long-time exec will advise the media giant for three years, while remaining on its board of directors.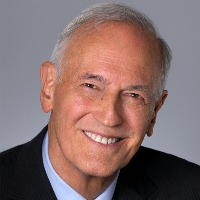 Phil Lind is stepping down from his post as EVP of regulatory at Rogers Communications at the end of 2014.
Patricia Trott, a Rogers spokeswoman, confirmed that Lind, who is also vice chairman, will retire from active duty at the cable and TV giant after a 45-year career.
He will remain at Rogers for three years "in an advisory capacity," and will continue to sit on the company's board of directors.
Rogers has not named a successor for Lind, as it launches a search.
For much of his career, Lind was a trusted right-hand man to Ted Rogers, the company founder and CEO who died in 2008.
His retirement from day-to-day running of Rogers, which he joined in 1969 as programming chief, coincides with the recent appointment of Guy Laurence as company CEO.
From Playback Daily