Canadians get charged up with Telus and Play Taxi Media
The cab-based ad company is placing phone chargers in the back of its fleet thanks to a sponsorship from the telco.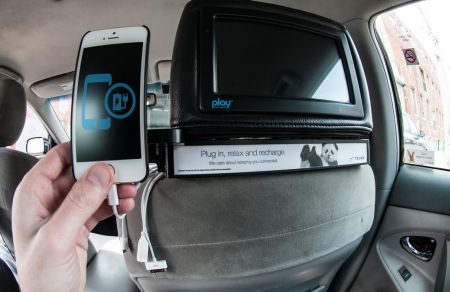 Play Taxi Media and Telus are fulfilling the wishes of cab passengers in Toronto, Montreal, Calgary and Vancouver who have run out of juice on their mobile devices before reaching their destinations by rolling out chargers in 1,000 of its cabs.
The units, which will have chargers for nearly all devices on the market (including connecters for both iPhone 5 and lower models) were created with media work from Cossette, Zachary Killam, president and CEO, Play Taxi Media, tells MiC.
Charging units will be in the back seats of the cabs on the passenger side and will also feature a USB port for travellers to connect their own chargers. Not to worry, cabs equipped with the chargers will also have a note on the window reminding passengers to take their phones with them before the leave the vehicle.
Lara Johnson, director of marketing for Telus says the launch with Play Taxi Media follows a trend in Europe of chargers becoming available in new and unique places. Telus wanted to tap into this trend through an existing media partnership in Canada.
The units will be rolling out in Play Taxi Media-equipped vehicles, including Blacktop and Checker Cabs in Vancouver, Mayfair Taxi in Calgary, Ambassador Taxi in Toronto and Taxi Union in Montreal.