Facebook extends campaign reach to third party apps
The social media co introduced Audience Network this week, allowing Facebook advertisers to reach users on participating apps.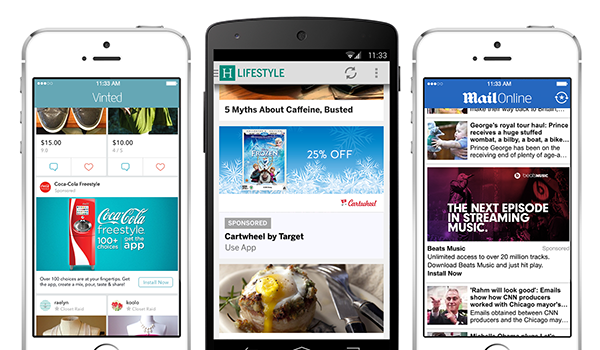 Facebook is extending the reach of its advertising offering with third party mobile apps, the social media giant announced at its f8 conference this week. Advertisers will now be able to use Facebook campaigns to target and reach audiences through participating apps, including ones from The Huffington Post, Vinted and Mail Online, each offered as examples in a Facebook blog post. The program is currently in beta testing, which apps must apply to be part of.
App developers who opt into the program can choose from a variety of ad units, including standard IAB banners, interstitials or customizable native units. Facebook's policies for the Audience Network program stipulate that apps can only feature one ad per page or show one ad at a time if users are scrolling.
Jodi Brown, director, content, Mediacom, tells MiC that the ability to mine audience data from about 15 million active Canadian mobile Facebook users will make Facebook Audience Network an important tool in the agency arsenal. "I believe that the biggest benefit for brands will be the ability to leverage Facebook's precise audience targeting capability within contextually-relevant mobile environments for the first time," she says.
Brown says she sees the announcement as good news for the development of the mobile advertising environment. "It goes without saying that FAN will become a major rival to the Google Display Network for mobile.  But the more competition in this space, the better for agencies and the brands they represent, so bring on more rivalry!"
Image courtesy of Facebook.