Telus has installed World Cup games at Toronto urinals
Urine-activated experiential installation promotes the company's LTE network in Toronto restrooms during the height of soccer fever.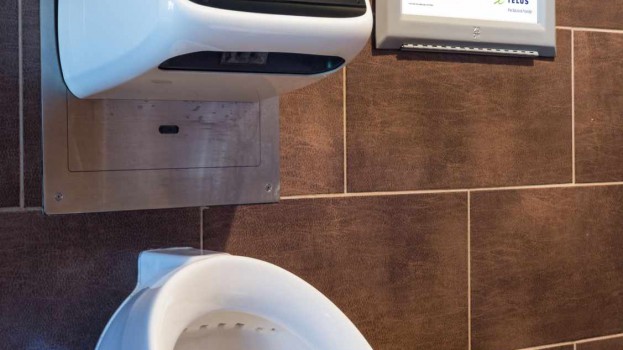 Telus is using the excitement around the World Cup to promote their streaming LTE network by letting men interact with a stream of their own, as it were.
In restrooms around Toronto, users can use their urine to control where a ball is shot on a digital screen placed over the urinal, while an animated panda goalie attempts to stop their shots.
"The idea comes from trying to find ways to connect to the audience in new, unexpected ways and to leverage the mindset they're in. And the current mindset is all around the World Cup," Lara Johnson, director of marketing for Telus, tells MiC. "In trying to appeal to a younger target, we put an unusual experience into a time when they're already celebrating."
While the infrastructure of this campaign is necessarily centred on a male audience, the creative nature of the installation, developed by Taxi Vancouver, lends itself to a life outside of the men's room.
"This is one of those great ideas where, when someone experiences it, the chances are high that they run back to the table to talk about it for 15 minutes," says Tim Beach, associate media director for Cossette Media, the media agency on the campaign. "It was more about creating an experience where they want to share it – with their friends, with women at the table who might encourage their boyfriends to try it. We weren't too worried about the focus because we feel like everyone is going to talk about it."
Johnson says Telus had some success reaching both genders of the younger market with a similar installation based on a ski racing game they installed in Vancouver during the Winter Olympics.
"The feedback we got was phenomenal," she says. "Bartenders were saying that people would come back to the table and challenge their friends, and women would come to the bar asking if there was anything for them."
In terms of tapping into the excitement around the World Cup, the obvious choice for any brand is the multicultural fabric of Toronto. Beach says that they had to focus on a single market because of the logistics that come with a campaign like this. Zoom Media, the vendor on the campaign, had their work cut out for them.
"For us to pull it off in time for the start of the World Cup, every day, there was work being done," he says. "They basically had to spend a lot of time drilling and dealing with wiring and pipes, and co-ordinating with the tech guys they used and then marrying that all up. You wouldn't believe the varying list of establishments we had, and it kept changing and it really depended on which establishments were able to accommodate the work."
The establishments and restopubs that were up for a "urine-activated experiential installation" include Fionn MacCool's, Betty's and Rasputin Vodka Bar, among others.
A campaign centered around a urinal might not seem to match Telus' brand expression at first, with their cute baby animals. But Johnson says that campaigns that are a little bit tongue-in-cheek are not new for Telus, pointing to the company's "Keep It In Your Pants" smartphone safety campaign. Experiential installations like this one are an attempt to transfer that to a more interactive environment.
"I think that the Telus brand is a fun, different, engaging brand, and this is aligned with that," she says. "Beyond brand expression, which is just one-way dialogue, we've been developing more unique things that shift from expression to experience. That will generate some word of mouth."