Samsung goes big…really big
The company's new Yonge-Dundas Square billboard, which can display live video and social media content, launched this weekend.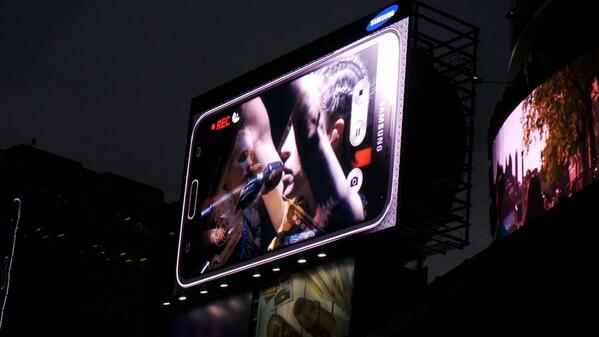 Samsung is hoping to integrate its brand into the lives of Torontonians with a new, high-impact digital screen in one of the city's busiest neighborhoods.
Located at the north-west corner of the Yonge-Dundas Square , the Clear Channel Outdoor screen measures a massive 97 by 60 feet, the largest in Canada. It's comparable in size to Samsung's screens at Times Square in New York and Piccadilly Circus in London.
The screen could be Samsung showing off just what kind of technological feats they can pull off, but Mark Childs, CMO of Samsung Canada, insists that's not the case.
"I think it's about wanting to be part of Toronto," he tells MiC. "The intention here is different than any of the other boards. Obviously it's an advertising medium, but it's also an opportunity for us to make a stronger connection with Torontonians. It's definitely high impact, but the hope is that it becomes a little bit immersive, which is also what we are doing in terms of bringing technology to the marketplace right now. We want to break through and we want to do it in a way that's connected to community."
The ability of the board to not only broadcast video content but to display live and post real-time updates from social media is what will connect the company with Torontonians on the ground. On Saturday, during a marquee performance by St. Vincent during the NXNE music festival, the screen broadcast live footage of the crowd and displayed photos and tweets tagged with #SamsungNXNE.
The screen will be used exclusively by Samsung to promote its brand, although there are plans to incorporate content from some of its partners, such as TD Bank, which is running a promotion for Samsung's Galaxy Tab 4.
"We're going to use it for community events, both ones that are in the square and across the city," Childs says, pointing to what the company did during NXNE. "As we learn and grow into it, there will be other content on there, stuff that will be valuable for people walking by, driving by. If there's need, we'll hand it over for alerts and stuff like that."
Childs says he is looking forward to seeing what media partners do with the screen. Clear Channel Outdoor set up the board for Samsung, but beyond that, Childs couldn't say which agencies were working on what, though between creative, interactive and social media elements, there are plenty of opportunities to bring people in.
"It's a 24/7 broadcasting job, so it has to be manned and resourced by people who know what they are doing," he says. "It can pretty much do anything we want it to do. We have a whole host of artistic agencies we've worked with before and new agencies that are going to push the boundaries of what can come to life on here."
Yonge-Dundas Square sees over 62,000 pedestrians and 55,000 vehicles on a daily basis, with a demographic range that hits white-collar workers, Ryerson University students, Eaton Centre shoppers and visitors to the city.