Say Media gets branded with BMW i
The branded series is the first produced through Say's deal with Hearst Magazines to provide content exclusive to a Canadian digital audience.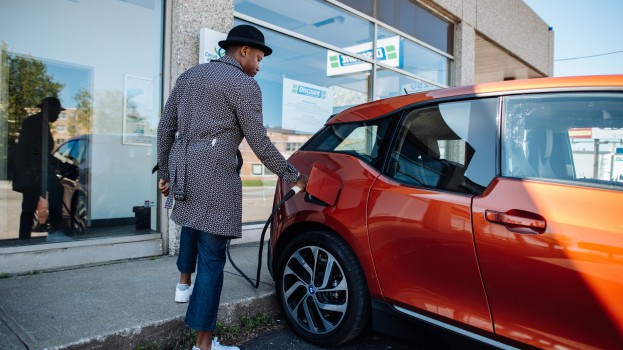 Canadians visiting Esquire.com will start seeing exclusive content there as part of a branded content campaign promoting BMW's launch of the i series of electric vehicles within Canada.
The campaign is Say Media's first as part of a deal with Hearst Magazines to provide sponsored content exclusively to Canadian audiences on the publishing giant's digital platforms. It's done in Say Media's style of branded content, which the company calls "Point-of-View Publishing." Media on the campaign is done by Media Experts, with creative work from Cundari.
"We work with editors that have a very passionate view on their hobby or an interest and are not scared to talk about things the way they should be," Paul Cassar, VP International at Say Media, tells MiC.
The first of the four-part series is already on Esquire.com, featuring Montreal-based lifestyle blogger Marcus Troy giving the car a test drive in a video and writing about the experience in a blog post. Over the next month, the website will post an entry that is a virtual test-drive of all the i3′s features, one that is an in-depth look at the technology in the car and one that again features Troy and his impressions of the vehicle.
"[Troy] most definitely has a strong point of view over the finer things in life, like design and style, things that are of a high quality," Cassar says. "He also has a community that's really attached to the things he says. That matched well with the nature of the car. It's targeted to the urban lifestyle because it's an urban vehicle, which also aligns really well with what Esquire stands for."
The electric vehicle market is currently dominated by non-luxury brands. Jennifer Douglass, supervisor of digital solutions at Media Experts, says the campaign is meant to establish the i brand, especially the i3, as an electric option that maintains the "pillars" of BMW's identity.
"The traditional electric vehicle shopper is not necessarily a BMW shopper," she says.
The campaign is targeting style-focused adults that make up Esquire's primary audience, with an estimated 240,000 unique Canadian visitors going to Esquire.com every month.
Say Media and Media Experts have worked together before, including past campaigns for BMW, but this is the first content campaign that they've executed in Canada, targeted at a Canadian audience with specific Canadian content.
"Media Experts coordinated with all parties to arrange the partnership and executed the media buy across all online devices," Douglass says. "BMW coordinated the content program with Marcus, and he has his own production team for the videos and imagery. Cundari and Say Media worked on the adFrames execution that will syndicate, entirely in one ad unit, information about the BMW i, as well as aggregating the articles from Esquire.com."
Say Media's deal with Hearst, announced in January, will produce more campaigns targeted at Canadians in the coming months.  The content could potentially appear on the digital platforms for Cosmopolitan, Seventeen, Good Housekeeping and Harper's Bazaar.
"The opportunities for Canadian-specific content to be integrated with American publications, such as Esquire, is limited," Douglass says. "Because Canadian audiences are smaller than their US counterparts, American publications are generally weary of spending editorial budget on content that only Canadians will see. But this opportunity to work with Esquire.com and Say Media did not limit BMW Canada in any way."
Image courtesy NASKADEMINI / The Marcus Troy Experience