Coors Light wants to rescue your summer
The beer co's new scavenger hunt contest opens up prizing beyond those who buy its products, and is being promoted without TV spots.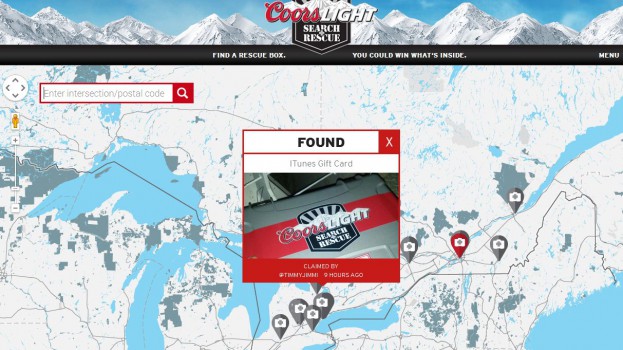 Coors Light is trying to add some excitement to the summertime experience in Canada through a new contest called "Search+Rescue."
Coors will be hiding branded boxes containing prizes ranging from things like an iPod Shuffle to a summer bobsledding experience at Calgary Olympic Park in locations across the country, which Canadians can find by following Coors Light Canada on Twitter, or by looking on a map on the contest website. Once they find it, they can tweet a picture of themselves holding the box to Coors Light Canada, which will respond with a question, the answer to which will unlock the box. Media on the campaign is handled by MEC, creative by Leo Burnett and Behaviour on consumer strategy.
Many of the prizes are summer-centric, ranging from fishing and golf trips to wakeboards and GoPro cameras. There are also some province-exclusive prizes, such as a rafting trip in Nova Scotia and CFL season tickets for fans of the Saskatchewan Roughriders and Hamilton Tiger-Cats. There are also gift cards from Boston Pizza, iTunes, Bass Pro Shops and SportChek.
After releasing the first 150 boxes on Canada Day, most of the prizes had been claimed within five hours. A grand total of 880 prizes will be made available on a week-by-week basis before the end of July.
Karl Bonar, senior marketing manager at Molson Coors Canada, tells MiC that the campaign is aimed at millenials, but the adventure aspect does offer something to Gen Xers.
"It's very Willy Wonka-esque," he says. "It's all about enhancing the everyday things Canadians are already going to be doing in the summer."
A big summer promotional push is nothing new for Coors, typically revolving around contests giving away trips and passes to party events they put on. What's new this year is that the contest isn't based on buying cases of beer to win prizes.
"It's an equity play," Bonar says. "We don't want people to have to buy a bottle of beer to participate. It's a fresher take on what we've done in the past, taking the adventure aspect and adding more inclusivity."
That inclusivity also comes into play with the location of the boxes, which will be found in a mixture of urban and rural locations across the country.
The other new element of the contest is that there will be no TV presence, with promotion almost entirely through digital, video and mobile advertising, with some minor print ads. Eschewing TV is meant to enforce the summer attitude of getting off the couch and embracing the summer, according to Bonar.
"Our insights say that Canadians are very adventurous and like to get out and explore, especially in the summer," he says. "There's not really a point going at them with a big budget TV ad in summer time when there's so many more things pulling them outdoors."
Coors is also hosting a big summer party, called Basecamp, in Toronto later this summer, a trip to which can be won as part of Search+Rescue.
Even with all of those prizes, not doing a large TV campaign means Coors is spending less than usual on this year's summer promotion. But Bonar says the company is still planning to see a similar level of audience reach.
"Really, each one of these boxes is its own piece of media and the organic impressions that we get with the interaction from just one of these is so broad and reaches so many people," he says. "We're getting much more efficient at the mobile and social side of things."