Metro invites food lovers to take a bite out of summer
The grocery chain launched its first multi-platform campaign, kicking off at this weekend's Taste of Toronto Festival.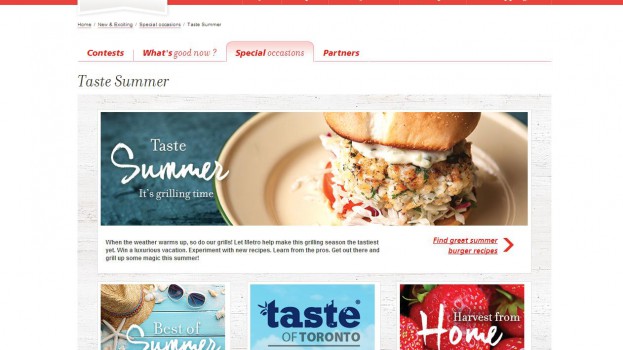 Metro hopes to re-establish its commitment to quality food with a new multi-platform summer campaign.
It all starts at this weekend's Taste of Toronto Food Festival, the first North American edition of the global Taste Festivals. Metro will have two on-site activations. The Metro Master Class is a hands-on area where festival-goers can prepare and cook dishes with local Toronto chefs like the Harbord Room's Cory Vitiello, Bosk's Damon Cambell and Top Chef Canada winner Carl Heinrich. The Metro Market & Lounge is a pop-up market where people can buy local produce inspired by what they see at the festival and pick it up when they are ready to leave.
While these aren't the first on-site activations Metro has done, they are the first on this scale, having previously done some smaller work around sports and entertainment events. By not only activating at a food festival, but centring its entire summer push around it, it reinforces the grocery chain's connection with quality food.
"We're a grocery retailer and our commitment is to deliver the best quality and variety of food to local communities we serve," Nancy Modrcin, senior director of marketing at Metro Ontario Inc., tells MiC. "We've never had a fully integrated approach. We've done smaller activations and in-store showcases, but we've never made a big deal about it aside from some small signage."
Metro partnered with Air Miles to host a VIP breakfast on Saturday morning with food provided by the store. Looking ahead to the rest of the summer, Metro's full "Taste Summer" campaign involves a dedicated microsite with more robust content, as well as a partnership with Canadian Living for five months of sponsored editorial content with celebrity chefs. Metro will also host in-store "mini-festivals" centred around one piece of local Ontario produce the store sells.
"We're trying to optimize the media mix," Modrcin says. "We've rarely done sponsorships of this size. The print and online buy is about 30% of our total budget, and the remainder is being put into targeted PR campaigns, broadcasts, the activations and in-store events."
Traditional media still has big value for Metro. The chain has done broadcast features on Toronto morning television leading in to its Taste of Toronto events, and will promote its in-store events through ads in smaller, community newspapers as well as its flyer. Modrcin says Metro's flyer still earns more than 10 million impressions weekly, and by running ads in smaller, community papers, it can reinforce its community role as a food provider.
"Grocery is essentially a local business and the grocery store is at the heart of many Ontario communities," she says.
Modrcin says that the store wants to target any shopper interested in fresh, quality food produced by local growers, regardless of age or gender.
"At Taste of Toronto, there is an element catering to people who are younger and willing to go out to a multi-day festival," she says. "Overall, we're much more engaged with trying to engage with psychographic behaviours than shared demographics."
Metro handled its own media buy on the print elements of the campaign, working with its agency of record Publicis on advertisements and Free For All marketing as its activation team.