Spotted! Depend shows off its wares
The bladder leakage underwear kicked off a new campaign aimed at breaking the stigma around wearing its product with a stunt at Yonge and Bloor in Toronto.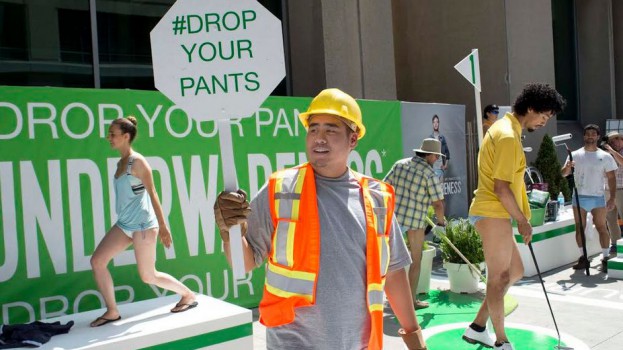 Depend kicked off a new campaign aimed at breaking the stigma around bladder control issues yesterday with a stunt at Yonge and Bloor in Toronto where models dropped their pants on a live video billboard at the intersection.
The new campaign, called "Underwareness" was created with media from Mindshare, North American creative from Ogilvy & Mather, PR from Ketchum and shopper marketing work from Geometry.
Nadia Said, senior brand manager, Depend, tells MiC the campaign is one of the bigger pushes the Kimberly-Clark brand has done. She says the campaign aims to open up discussion around the fact that the average age of its products' users is 52, with everyone from mothers who have given birth to people who have had surgery below the waist facing bladder control issues, not just the stereotypical elderly consumer. She adds that 10% of all Canadians suffer from bladder control issues, a statistic most might be unaware of.
In addition to the stunt, Depend's campaign will include print, TV, OOH and an in-store retail level component to the project.
Print and OOH campaign creative will feature models wearing Depend undergarments rather than pants in order to change the conversation around use of the product. The online ad will be spread through MSN and Sharethrough, as well as with paid spots on Facebook and Twitter. Campaign spots will run until December.
To help change the conversation around its product Depend is urging people to submit their own pants-drop photo with the hashtags #underwareness or #dropyourpants. For each shared photo Depend is pledging to donate $1 to the United Way Worldwide and The Simon Foundation for Continence, up to a maximum of $3 million over the next three years across North America.