Good to GO: How IMA will update transit ads
A new 12-year deal will see IMA manage and modernize advertising across all of GO Transit as well as on future Metrolinx projects.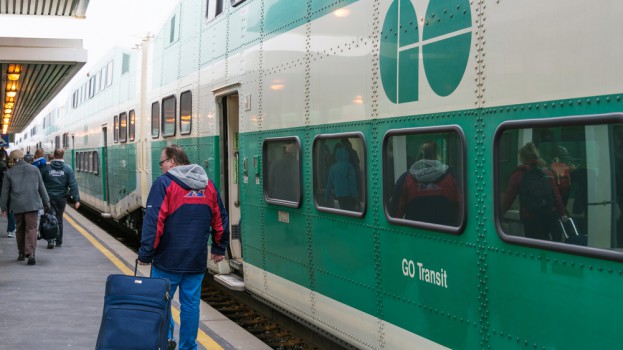 IMA Outdoor has been awarded a contract from Metrolinx to extend its advertising across all GO Transit properties. The deal makes IMA the exclusive advertising provider on the GO Transit network for the next seven years with the option to extend for another five.
IMA had previously provided ad services on 14 GO Transit platforms and wraps on selected vehicle exteriors. Now, the company will manage all advertising on the network, which includes 78 bus and train stations, 570 trains and 600 buses. In addition to exterior wraps and bus side advertising, those vehicles have over 6,000 surfaces available for interior ads.
Metrolinx had previously split its advertising between multiple companies on short-term contracts. The deal also includes opportunities for IMA to provide advertising on Metrolinx's future projects, such as the Union Pearson Airport Express and the Eglinton Crosstown line.
The main requirement of Metrolinx's RFP was to modernize the advertising across the GO network and to provide access to passengers at multiple touchpoints.
"[Metrolinx is] really driving the digital expansion," Brian Rodkin, CEO of IMA Outdoor, tells MiC. "What they are really aiming to do is to have an enhanced customer experience. They want to use advertising to reinvent how the GO Transit customer interprets the entire travel experience."
IMA will be installing updated wayfinding kiosks at GO stations which, in addition to being a map passengers use to navigate, will be central content-delivery areas in the platforms. The company will do this by continuing the implementation of WiFi in all GO stations and is exploring the ability to add WiFi capabilities to vehicles. A WiFi network allows IMA to advertise to users as they access the landing page to sign in to network, but Rodkin says they will also be able to download apps or other content to be consumed on the upcoming trip, or for those arriving to receive offers from local businesses as they plan their route at a kiosk.
Ad updates will also include the installation of digital screens on platforms and vehicles that allow for real-time updates and targeting through dayparting, as well as more advanced things like video walls and hanging digital signs. Rodkin says that there is still value to clients in keeping some of the surfaces static to work in tandem with the digital signs, similar to work the company does in areas of Toronto's PATH network."
The deal will allow IMA to combine the GO advertising with its existing ads in the PATH network. IMA can provide a consistent message to a rider from the point they arrive on the platform, through riding on the vehicle and arriving at Union Station and to travelling to an office building through the PATH.
"We often have the advertisers saying to us that they want to have a message on the platform with take-home value that [riders] take with them," Rodkin says. "We've never been able to coordinate that before because we never had all the elements. This is a way now to answer both what the advertisers want and what GO wants in enhancing its customer experience."
Rodkin says the IMA has begun working with teams at GO to study the stations and determine what advertising will work best for each location's individual needs. The contract calls for the modernization to begin rolling out over the next two years.
Over 251,000 people use GO Transit on an average weekday and ridership is expected to grow by 5.8% annually, topping 75 million yearly riders by 2016. Metrolinx has invested over $16 billion in expanding transit services in the greater Toronto and Hamilton area.
Image courtesy rmnoa357/Shutterstock