The new MSN gets away from the desktop
The web portal has undergone a makeover, and will now draw content from 1,000 outlets as part of a new mobile focus.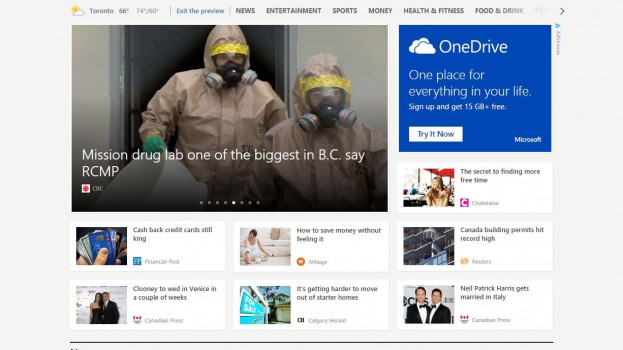 MSN has relaunched its website globally, with a completely new content strategy and a more mobile-focused design that aims to build the site's reach beyond its existing desktop-heavy audience.
The centrepiece of the new MSN is content curated from over 1,000 of the world's top news outlets, as opposed to the original work it previously featured, with more of a focus on video content. It has also added a slate of productivity and reference tools, with new additions including things like a symptom checker, diet trackers, recipes and shopping lists to existing resources like stock trackers, weather and sports scores.
Previously, MSN's editorial teams in Toronto and Montreal commissioned original content from freelancers based on the subject they wanted to focus on. Now, those same editorial teams are going to be curating content exclusively from the partner outlets based on what they deem to be most relevant and important to a Canadian audience.
In Canada, MSN's partners include the Globe and Mail, Toronto Star, CBC, Corus Entertainment, Maclean's, Canadian Press and the full roster of Postmedia newspapers. The Canadian site will also pull in content from international outlets including the New York Times, Wall Street Journal, La Monde, The Guardian, The Atlantic, Motor Trend and Fox Sports.
The interface has also seen a redesign on desktop and mobile platforms, which users can customize to determine where certain categories and tools appear on the site. Those preferences are tracked and maintained as they move between platforms.
Microsoft's offering of Bing Apps have also been rebranded under the MSN banner, with iOS and Android versions available in the near future that will also track preferences from the desktop site.
According to numbers from comScore, MSN has 15.5 million unique monthly users in Canada. The majority of that traffic has come from desktop and homepage users, and the relaunch is an attempt to grow the site's audience to the rest of Canada through an offering that is cross-platform with a stronger mobile site.
"MSN has been around for 19 years and we've evolved over time with refreshes to the homepage here and there," Matthew McKenzie, executive producer at MSN Canada, tells MiC. "But we've always sort of been a desktop browsing experience. We need to make a mobile, cloud-first commitment to satisfy the consumer need for content and connection throughout the day."
For McKenzie, the partnerships with news organizations, with a large offering available in one, cross-platform hub, is what is going to differentiate the new MSN from competitors, from all three perspectives: consumer, media partner and advertiser.
MSN is still offering the same advertising opportunities through the same ad buying process, but with more of a mobile focus, McKenzie says that the site now offers a truly cross-platform experience, allowing advertisers to follow visitors throughout the day through video, display and native app integration.
McKenzie says that news, entertainment, sports, finance and lifestyle have been the site's best-performing verticals, and will be more focused on those going forward. However, he adds that the new tools and content offering on the site are also present in the automotive, health and food categories.
"When you have this kind of audience size, your target really is all Canadians," he says. "We have content and products for every single demographic. Our goal is still to reach as many Canadians as possible, and we can through all our verticals."