Spotted! Shomi turns Yonge-Dundas Square purple
The streaming service is using the OOH campaign to drive awareness and launch a Twitter contest.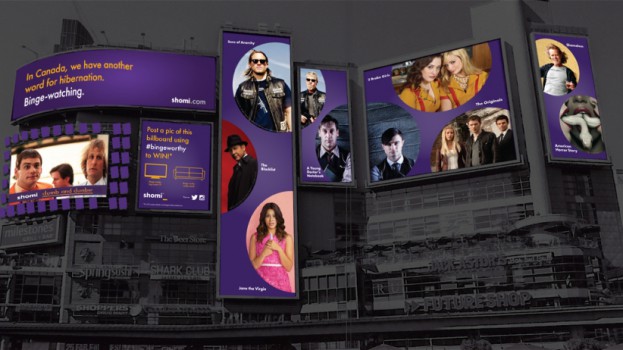 The north-east corner of Yonge-Dundas Square has been bathed in purple as fledgling streaming service Shomi launches a campaign to encourage Canadians to binge-watch its content.
The Netflix competitor has taken over seven billboards at the downtown Toronto location in a big awareness push for its seven-week-old service. Over the next four weeks, people passing through the square will see the slogan "In Canada we have another word for hibernation. Binge-watching." The square averages traffic of four million people.
"We wanted to leverage the opportunity in an iconic area, with all the traffic happening during that Christmas period, to really showcase the breadth of content that's available on the service," says Rita Ferrari, director brand and product marketing at Shomi.
In addition to the slogan, the OOH execution includes a video billboard, which will run commercial spots for the brand, including a New Year's Eve montage compiled from shows available on the platform. Static boards promote other shows on Shomi, including Jane the Virgin, Sons of Anarchy, Two Broke Girls and American Horror Story.
Another board features a call-to-action for passersby to take a picture of the display and tweet about it with the hashtag #bingeworthy for a chance to win a TV and couch. The company will also be using Twitter's Promoted Tweets feature to get a photo of the billboard into user's feeds. Users can retweet the image to enter the contest.
OMD handled the media buy, Proximity/BBDO creative for the billboards and Rethink the video for the campaign.
Shomi, an ad-free streaming service jointly owned by Rogers and Shaw Communications, is currently available in a limited beta release to Rogers and Shaw subscribers. Ferrari wouldn't comment on the number of customers using the service but says that the company is "thrilled" with results so far.
Shows that are being viewed frequently include Sons of Anarchy, American Horror Story, Scandal, Two Broke Girls, Modern Family as well as Vikings. On the movie side, 21 Jump Street and Dumb and Dumber has been doing well as the sequel, Dumb and Dumber To is currently in theatres.