Rogers Comm. taps German phone exec to lead consumer business
Former Deutsche Telekom sales and distribution head Dirk Woessner will join the company on April 5 as president of the consumer business division.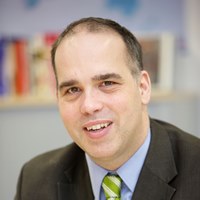 Rogers CEO Guy Laurence has tapped a European telecom veteran like himself to lead the Canadian media giant's consumer business division.
Dirk Woessner, former head of sales and distribution at Germany's Deutsche Telekom, on Monday was unveiled to become president of the consumer business unit at Rogers Communications, effective April 6, 2015.
Woessner will oversee product development, sales, pricing and customer management at Rogers Communications, which since Laurence came over a year ago from Vodafone UK to head up the Canadian cable and mobile phone giant, has looked in part to repair its image for customer service.
His consumer business unit includes a national wireless phone network and cable TV services in eastern Canada that compete directly with rival BCE's Bell Fibe Internet-based TV offering.
Woessner will report to Laurence, and replaces Rob Bruce, who announced plans in May 2014 to leave Rogers after a decade with the company.