Spotted! TSAs that forecast daily discounts
Mark's campaign with Astral OOH links the dipping temperatures to storewide sales.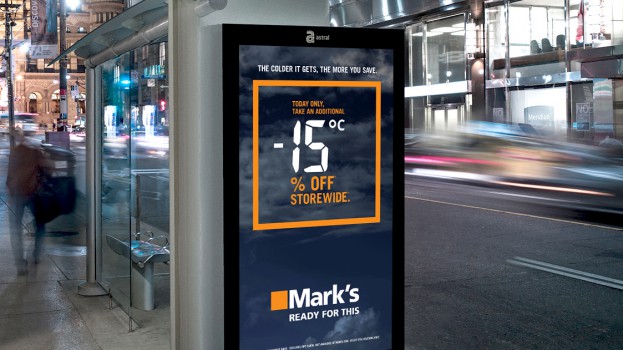 Apparel retailer Mark's is offering commuters a reason to smile through wind-chapped lips. The apparel brand has rolled out a winter digital transit shelter campaign with Astral OOH that ties dipping temperatures to storewide discounts.
The brand has eight-second ads in rotation on 40 digital displays around Toronto that include the city's current temperature (and store discount), and shares that the "the colder it gets, the more you save." That temperature rises and falls in real-time thanks to an RSS feed that pulls data for downtown Toronto from website world weather online.
But consumers need not worry about losing out on some of the discount if the temperature rises, says Sabrina Lalonde, associate VP of marketing channels. At the brand's 46 Toronto-area stores, the daily discount is being tied to the day's forecasted low. For instance, if the day's forecast says it will be -18 C, an 18% discount is granted.
Lalonde says that 30% of Mark's sales are tied to cold-weather related products like footwear, outerwear and accessories and typically when there's a snow storm, it sees a rise in sales. In the past, the brand has only been able to use digital and social channels to make a call-to-action in real-time, she notes, but the digital outdoor boards allow it to bring those capabilities to OOH.
"To be able to add digital TSAs into the mix, we are able to build a reach and frequency much faster than we could have," she says.
"As we try to become the destination for men's apparel and footwear, we really need to find ways to give compelling offers to our customers that are as relevant and in as real-time as possible," she adds. "I think it's a really good marriage of marketing and purchasing."
The two-week campaign is being supported through social and digital channels, as well as in-store digital signage, which are updated daily to show the day's discount.
Mark's creative AOR Sid Lee worked directly with vendor Astral Out-of-Home on the execution, since the campaign comes as a the result of the 2014 Carte Blanche for Creatives competition, which was won by two agency ceatives – art designer Barbato Martiniello and copywriter Emma Quiroz.