BMW and the Globe partner on custom digital ads
Details on the new branded content campaign aimed at connecting Globe readers with personalities around the car co's X models.
BMW has partnered with the Globe and Mail and Globe Media Group for a new branded content campaign featuring custom digital ad units to promote its X models.
Working with BMW's media agency Media Experts with Cundari consulting on creative, the Globe and Mail launched Life˟, or life to the power of x, calling attention to the multiplication effect the car co says its vehicles will have on its users' lifestyles.
A personality was chosen to represent each car and lifestyle. Real estate developer Brad Lamb represents the "bold, independent and powerful" nature of the X6, Natasha Koifman, president of PR firm NKPR the "stylish, extroverted, vibrant and forthright" X4 and designer Jane Lockhart the "playful, younger, active and functional" X3.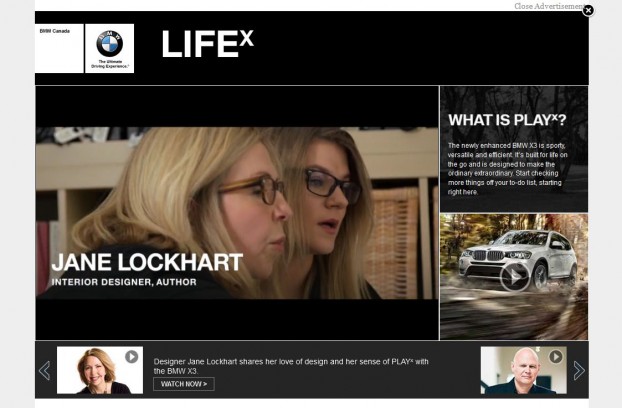 A custom "canvas" ad unit was designed to house the video content from the personalities on the Globe, with their stories, as well as a brief spot on the car itself and a slider to the other videos appearing on targeted articles on the site. Portrait and billboard units show the ads on Globe Alliance partners like the Wall Street Journal, Forbes and The Guardian and a partner page shows all of the content in one place.
All branded content for the series was produced by the Globe Media Group.
The digital campaign, which launched last week and runs to mid-March, builds off of another campaign the car co did last summer with Esquire and Say Media for the launch of its BMW i3. That campaign had the company partnering with blogger Marcus Troy writing a series of articles about the car.

For the new campaign, BMW partnered with the Globe Media Group to add a content layer to its X model promotions, with specific ads being targeted to users based on their prior website behaviour before visiting the Globe and Mail. All three ads are targeted at a primary audience of men over the age of 45 with high household incomes, says Jennifer Douglass, manager of digital solutions, Media Experts.