Why the Globe is launching an Apple Watch app
The media co's key considerations when designing the app, and how it fits into the Globe's overall mix of products.
The Globe and Mail is aiming to be one of the first news organizations with an app on the new Apple Watch.
Launching on the device on April 24, the new app was designed to feature one sentence stories and large, impactful images that will play well on the Apple Watch's small screen.
Angus Frame, VP of digital media at the Globe and Mail, says it was important for the media co to be on the device close to its launch because its research indicates Globe readers are often early adopters of products from Apple. Though goals for readership on the new Apple Watch app are dependent on the success of the device, Frame says his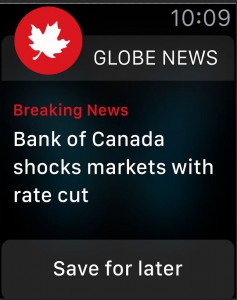 team is aggressively targeting Apple products because of the readership's affinity for the brand.
"Our expectations for Globe readership across iOS devices are quite bullish, expecting hundreds of thousands to be accessing the Globe through Apple products in the near future," he says.
There will be no ads on the Globe's Apple Watch app at launch, but Frame expects that to change quickly as the Globe team works with clients to discover ways to integrate into the new device.
"The key role for this in our product mix is as a cousin to the smartphone, and is more for smaller, immediate news hits," he says. "It's made accessible instantaneously. The Globe will then drive to other platforms for a deeper, richer content experience."