YouTube updates TrueView
The company is making the unit available on its DoubleClick marketplace, and adding increased interactive options.
YouTube is in the thick of a month of promotional pushes to its platform, this week announcing changes to one of its mainstay ad units, TrueView.
This week the company made changes to its TrueView skippable ad format, making the format available for purchase on Google's DoubleClick Bid Manager programmatic platform, as well as introducing greater interactivity for the ad units to make them more appealing to viewers.
TrueView was introduced to market five years ago as a format that allowed users to skip the ad after five seconds, with the video view counting after the user watched 30 seconds, or to the end of the ad, whichever came first. The number of ads that use TrueView went up 45% in 2014, and TrueView ads represent 85% of all in-stream YouTube ads on the platform, according to Google.
New interactive components include the introduction of cards to TrueView in-stream ads, allowing advertisers to share more information about the company, related videos and playlists, and soon be able to link to other websites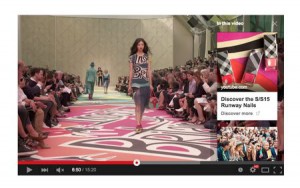 directly from the TrueView ad.
In addition to counting when a viewer watches an ad, YouTube will also be counting when they click on a card or other elements of in-stream creative, and charging for those interactions. Prior to the addition of these in-stream cards, clicks anywhere on the video player would be registered, now only clicks to cards, the video header, companion banner or a link at the bottom of the player will count as a click.
The video platform currently has a marketing campaign live across Canada, promoting YouTubers like Bethany Mota and AsapSCIENCE with national online ads and OOH and transit advertising in Toronto. The campaign is designed to increase the profile of the platform ahead of the first North American YouTube Fan Fest headlined by Mota and  Jenna "Marbles" Mourey at Yonge-Dundas Square in Toronto on May 2.
Earlier this month YouTube announced it is rolling Google Preferred out in Canada, which allows agencies to buy YouTube advertising directly by demo or content category, across the top 5% of YouTube content.
Image courtesy of Shutterstock