Astral wins Vancouver airport account
The eight-year contract for the city's international airport expands the OOH co's reach to 40 million people each year.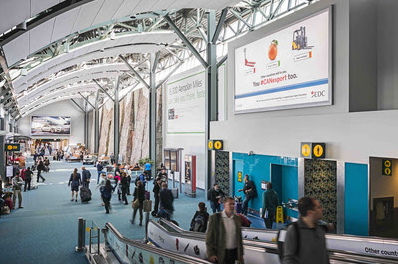 Astral Out of Home has extended its reach to 19 million passengers who traffic through Vancouver's international airport every year. The Montreal-based company, a division of Bell Media, has been awarded an eight-year advertising contract for Vancouver International Airport.
"We're extremely happy and proud because the Vancouver property is a massive property," says Luc Quétel, president, Astral Out of Home, noting that the airport has the most footfalls after the Toronto and Montreal airports. Astral already has contracts for the Montréal Pierre Elliott Trudeau international airport and Québec City's Jean Lesage international airport. It also recently entered into an agreement for Halifax's Stanfield International Airport.
With the addition of the Vancouver airport, Astral has expanded its reach to 40 million passengers every year. The airport has an extensive large format digital network and 10 digital faces.
The West Coast city's airport is a prized location for two reasons, says Quétel. First, it is a chief North American gateway to Asia offering advertising opportunities to reach a high-income market. It also expands the company's visibility across Canada. "When I see Halifax and then all the way to the Pacific, that is exactly the image we want to have to show a national footprint."
Quétel says the company is waiting for contracts to open at Toronto's Pearson Airport – a "landmark concession"  and the venue with the most traffic – in the hope of expanding its network even further.
Meanwhile, the Vancouver contract is effective July 1, 2015. The contract was previously with Clear Channel OOH.