A radio station's point of pride
With Cyndi Lauper draped across a float, Boom 97.3 forewent ad revenue and opened up programming to reach new listeners.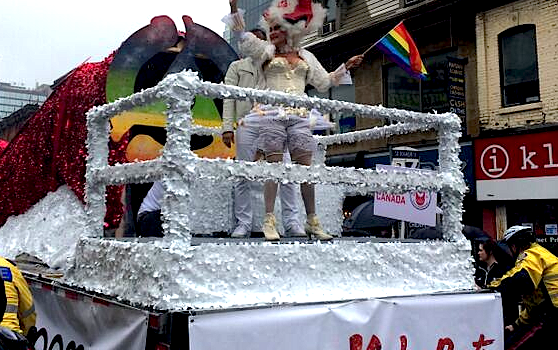 Radio station Boom 97.3 teamed up with Mirvish Productions and Pride Toronto to bring Torontonians in close proximity to Cyndi Lauper this past weekend.
The unusual collaboration emerged as the radio station, the production company and the pride committee realized that they were all trying to get Lauper to Toronto this weekend for a host of gay pride activities and for Lauper to present the premiere of Kinky Boots.
The celebrity was part of the radio station's weekend-long, commercial-free pride programming.
"It's something that we want to be a part of," says John Downey, marketing and promotions director at Boom 97.3 and FLOW 93-5. "By going commercial free and by getting people excited about our programming, we weren't just exploring what was happening in the city, we were embracing it."
The station launched its first pride event on Friday evening, a sold-out, $15-per-ticket, Totally G80s Video Dance party at the Pheonix Concert Theatre, which has a maximum capacity of 1,100 people.
The theatre was bedecked with candy buffets and a themed shooter bar. There were vintage photo booths and an unusual mix of 80s music that boomed through the evening. DJ Thomas Hall played music videos and the pride anthems of the 80s as radio personalities like Stu Jeffries and Jeff Spindel emceed the night. Carole Pope of Rough Trade performed and Lauper put in an appearance, selecting one of 10 of the night's kinkiest boot-wearers and handing them tickets to the Kinky Boots premiere on Sunday night. Winners of a call-in program on the radio's Sunday afternoon 80s programming for the weekend walked away with tickets to the show in NYC. 
Boom 97.3 usually has a curated music list of specific performers. A lot of research goes into developing their playlists, says Downey. But this weekend they brought on some pride favourites - Kylie Minogue, Janet Jackson, Bronksi Beat, for instance, not normally played on the station. 
They also replaced commercials with pride anthems on Pride Sunday for the Totally G-80s lineup, programming that lasted eight hours, starting at 10 a.m. on Sunday. 
The radio station also sponsored a float in partnership with Pride Toronto and Mirvish Theatre for Kinky Boots with Cyndi Lauper painted across the back as a Marie Antoinette.
Last year was the first time that Boom 97.3 did any specialty programming around pride. "We felt it was our duty to really embrace what was happening," says Downey. Apart from ticket sales, the company forewent sellable inventory – replacing spots with pride anthems of the 80s – to announce its support for gay pride.
Last year's programming earned the station a good deal of attention from a  range of listeners. This year, too, using a Twitter hashtag the station is keeping track of listeners' responses though its Twitter feed, and on Facebook.
The company was targeting its usual 25 to 54 age market, with 34 to 44 year-olds as its sweet spot. But Downey says that the company's triple efforts with the party, the float and its programming, expanded its reach to an even larger audience. 
"I don't anticipate any reason why we woundn't do it next year. It was such a diverse crowd of people. Young and old, gay and straight, embodying what pride is all about."