Clear Channel upgrades Dundas Square screen
The OOH company has updated one of its digital screens on the Bay Media Tower where daily footfalls reach 137,000.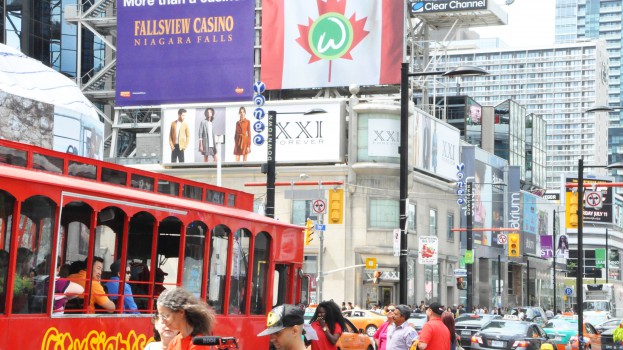 The Yonge-Dundas Square space has an updated digital screen. Clear Channel Canada has installed a new LED display on the Atrium on Bay Media Tower. The display, which is on the Atrium, matches the display resolution on the largest digital display in all Canada – the OOH company's Samsung screen atop the same tower. The site is well positioned because of its proximity to the Toronto Eaton Centre which sees visits from 47 million people every year.
The old screen was at the end of its life-cycle so the move was an effort to keep the digital looking fresh, according to Alain Simard, VP, Quebec, Eastern Canada and marketing for the company. "Clear Channel is really looking…to optimize its best media assets so we stay current with the technologies."
The area in downtown Toronto has one of the city's highest footfalls with a daily circulation of more than 137,000. It is also the venue for many summertime festivals that can draw more than one million people.
Clear Channel will soon be announcing details around new wraparound digital screens on columns in the new Go concourse in Union Station. Commuters can already see content on some of the screens that have been placed.