Ikea wants more action
Going for more than inspiration, the company has launched a cross-platform campaign around the release of its latest catalogue.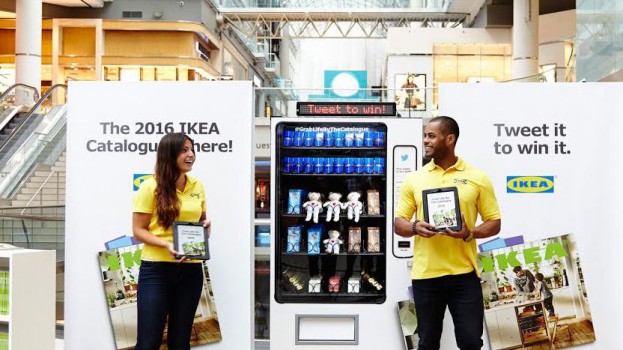 Each year Ikea Canada president Stefan Sjostrand says Canadians, in the furniture retailer's broad target of adults 25 to 54, are inspired by its catalogue release. The problem? Not all of their grand plans turn into purchases.
"We know that everyone gets excited when the catalogue arrives – they pour over it and dream about the possibilities, but don't always get into action," he says.
That's why the company has changed things up a bit for this year's catalogue campaign, which revolves around the tagline #GrabLifeByTheCatalogue.
With media from Jungle Media and creative from Leo Burnett, the cross-platform campaign includes TV and OOH ads, as well as a higher-than-usual digital and social media investment to reach audiences. The OOH ads are live in Ikea store markets: Vancouver, Calgary, Edmonton, Winnipeg, Toronto, Ottawa and Montreal.  The campaign launched on Aug. 10 and will be in market until about the end of the month.
As part of the TV campaign Ikea partnered with CTV's The Marilyn Denis Show to launch a series of vignettes with her design experts Andrew and Kasia. The 30-second spots showcase helpful home tips using Ikea products and are airing on CTV, CTV Two, Bravo and M3.
The mass reach for the catalogue campaign differs from Ikea Canada's typical target of women aged 25 to 54 who have an interest in home décor.  
As part of the campaign, this year Ikea Canada has also added an in-person component with a touring Twitter vending machine. Users can interact with the machine by pushing a button to generate a unique PIN number. They Tweet that number to @IkeaCanada with #GrabLifeByTheCatalogue for the chance to win prizes, including gift cards and food vouchers that can be redeemed in-store.
"With the Twitter vending machine we will be giving away gift cards that will help incentivize people to actually go and make those changes that they plan to do when they see the catalogue," says Janet Xi, media supervisor at Jungle Media.
The Twitter vending machine is making stops in cities with Ikea stores, including the Eaton Centre in Toronto on Aug. 20. It will be traveling to Ikea stores from Aug. 22 to 29, concluding in Coquitlam, B.C. at the end of the month.