The Globe flips out with Mercedes
The paper reformatted its back pages as part of a new campaign from the luxury automotive brand.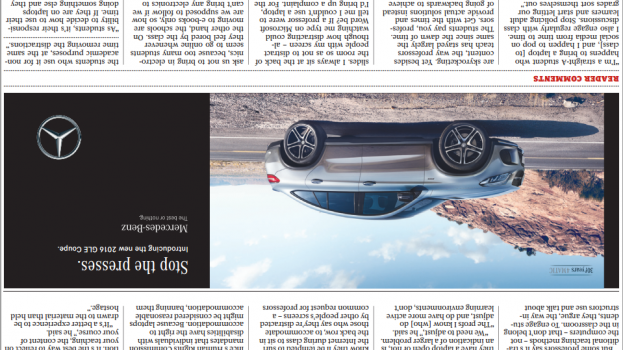 Globe and Mail readers were likely doing a double-take at their papers yesterday, or wondering what went wrong at the printers – all outside back pages of the issue were printed upside down.
The "Flip Side" execution was the launch of a campaign the paper is running with Mercedes around the launch of its 2016 GLE Coupe. The upside-down back page of each section featured one of the top stories of the past week for the Globe, along with reader comments on the issue. For instance, the news section had a story on whether or not technology is disruptive or helpful in the classroom and the sports story was about (what else?), the Toronto Blue Jays.
Teena Poirier, director, client engagement and custom content group, Globe and Mail, says the idea for the execution was sparked by Mercedes' media agency OMD requesting something different around the launch. The one-day print execution is paired with a two-week digital ad buy, with Mercedes running traditional (non-flipped) ads around the Globe's new Business Pivot series. That series looks at how a change in strategy has turned the tide for the businesses being covered. BBDO did creative for the ads.
Neither the agencies or the brand saw the flipped stories before they went to print, they just created ads to match the section they were being placed in.