TSN, Molson put pro spin on beer-league 'sports'
The Coors Light Games on TSN targets young viewers more interested in zorb croquet than CrossFit.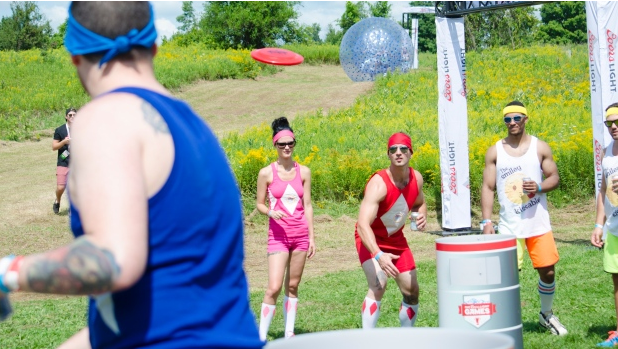 For all those TSN viewers who wanted their moment of sporting fame, Molson Coors filled that gap with its sponsorship of a the Coors Light Games.
Last night at 10:30 p.m., TSN viewers saw the results of that collaboration during a half-hour showing of the sporting competition. The spot highlighted the best of the TSN-Molson collaboration for the first-ever amateur backyard sports competition.
The so-called sports include a variety of rec-sport mashups, including volley pong, bubble soccer and giant Jenga. TSN created a program called SummerCentre, which was hosted by Cabral "Cabbie" Richards and tennis-star Eugenie Bouchard's twin sister, Beatrice.
The 30-minute TV special was aimed at expanding the reach of the experience beyond those who attended the games, says Natalie Cook, VP of brand partnerships at TSN. "We wanted to let people know what they had missed and to get them to be a part of it in the future, to support their friends and share it on their networks to help grow it."
TSN promoted the Coors Light Games through promos and invitations for regional playoffs for obscure or entirely made-up categories like zorb crocquet and keg jam. Rethink worked on the creative for the promotional campaign with MEC on media.
The partnership with Coors brand grew out of earlier collaborations. "We had done some quite creative work with our friends at Coors around NFL Fantasy so we knew we had some like-minded people at the table," says Cook. "Summer is a big target period for them, too."
The two companies teamed up to create a tournament that could celebrate the fun and crazy ways in which Canadians enjoy the short summer months, says Cook. But the goal was to create a branded experience that looked as professional as any other pro sporting event, she notes: "We wanted it to look first-class."
Some 125 teams from across Canada competed in the tournament, which took place in Milton, ON. last weekend. The event, which targeted TSN's millennial viewership, brings to a close the channel's integrated brand partnership with the beer brand for its SummerCentre collaboration.
TSN plans to bring back the SummerCentre for a second round of competitive backyard sports next year.