Instagram adds the 30-second spot
The photo sharing platform has added new ad units as part of an update that also makes placements available to any Facebook-managed client.
Instagram is ramping up advertising on the platform, opening up ads to any Facebook-managed client and introducing new options for brands looking to reach users on the platform.
As of today, all Facebook-managed accounts can now advertise on Instagram through a self-serve platform. Advertising opens up to all businesses at the end of the month, says Daniel Habashi, head of brand development for North America at Instagram.
Habashi says ad frequency on the platform is expected to go up over time, but notes the Instagram will be keep the focus it has had on ensuring brand creative matches the "inspiring" tone of user content on the platform.

As part of the today's ad update, clients can now use landscape images and videos in campaigns on the platform, after that option was introduced to Instagram users last month.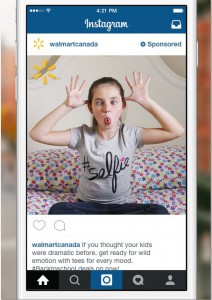 Instagram is now allowing clients to buy 30-second ads on the platform, an increase from the previous 15-second video ad units. This also allows advertisers to easily move their TV ads over to Instagram. Non-advertisers on the platform are only able to upload videos that are up to 15-seconds in length.
Instagram has also introduced Marquee, a new premium CPM ad unit aimed at driving mass awareness and reaching a large amount of users within a short time-frame, for projects including new product launches and movie premieres.
In Canada, Instagram has been working with L'Oreal, Fido, Walmart and TD Bank as launch partners for Marquee ads.
Advertising on Instagram in Canada first went live last November. Early launch partners Canadian Tire reported a 45-point lift in ad recall following its inaugural campaign on the platform, while A&W saw a boost of 39 points after running a campaign last year.
Monetization updates to the platform recently lead the Bank of America Merrill Lynch to forecast advertising revenue on Instagram overall to triple in 2016, anticipating revenues of $300 million overall in 2016 versus $110 in 2015.
All advertising updates are live in Canada now, and will be added to markets around the world on Sept. 30. Globally Instagram currently has 300 million users, the company doesn't break out numbers by region.
Featured image (by tulpahn) courstesy of Shutterstock