New Google ad products target right time, right place
The company has launched two new products during AdWeek, highlighting its focus on reaching customers when it most matters.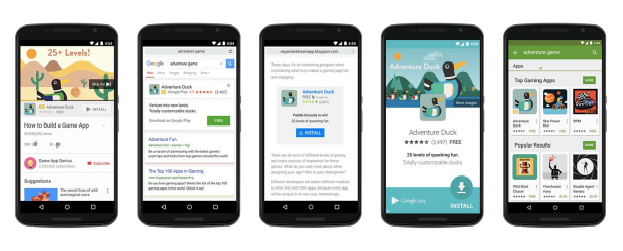 Photographers hoping to capture just the perfect amount of light, shadow and detail in their shots wait for the magic hour. Brands don't need to wait that long. Thanks to digital advertising there is a movement towards capturing the attention of potential customers in that magic moment when they intend to flip open their online wallets and buy.
At Adweek, starting today, Google has announced – and rolled out – two new products that, it says, will bring marketers closer to potential clients. The two products are Customer Match (which allows marketers to connect, via Google Search, YouTube and Gmail, to their highest-value customers at the right moment) and U​niversal App Campaigns​, an Adwords product that will allow marketers and app developers to reach potential downloaders on Google Search, Google Play, YouTube, and the Google Display Network (GDN).
How do these products actually work?
Customer Match does exactly what its name suggests. By allowing marketers to upload a list of email addresses (from loyalty programs and special email lists, for example), Customer Match is able to mate signed-in users on Google with the email addresses added to the campaign. Using this matching, the campaign can then target ads specifically to that user.
In addition, based on that user's YouTube activity, Customer Match also allows brands to target campaigns aimed at their interests. If the same user has been searching for specific information on Google.com, ads relevant to that search can be delivered to their platforms. (The company says that the matching is privacy-safe).
In addition to reaching the direct customer, a marketer can also reach like-minded customers through its Similar Audience mechanism. Users with similar interests and search behaviour on YouTube and Google Search can also be served up the same ads that were delivered to that user.
While Customer Match is available to all advertisers today, Similar Audiences will roll out in coming weeks.
Google's second new product is aimed at helping marketers and developers to enhance their app discovery. Once Google has the app's cost-per-install rate, the Universal App Campaign helps to scale the app's reach across its ad platforms.
The new tool pulls in all relevant info about the app – photos, description, and videos – from Google Play and automatically generates a series of ad formats relevant to placement across its network. Those ads are built to tap into intent-rich searches that are connected to the theme or focus of the app. For instance, an adventure game app will be advertised to those people who are searching for "adventure games" or "puzzle games" at that time.