Spotted! Taking a walk around the UNB campus
A PHD team uses Google Cardboard to get tech-savvy prospective students to tour their client's campus.
The University of New Brunswick (UNB) executed guerrilla tactics to recruit new students as prospective candidates hit the streets in Toronto for the Ontario University Fair. The East Coast school didn't have a booth at the fair exclusively for Ontario-based institutions so it decided to capture the imagination of attendees with a field visit to its campus, courtesy virtual reality.
As Ontario's 21 universities laid out their best features on booths inside the Toronto Metro Convention Centre, UNB's recruitment team donned their flagship red colours and handed out goody bags to parents and students outside. The red-shirted crew invited prospective candidates to look into VR googles and take a walk through the UNB campus and experience life there.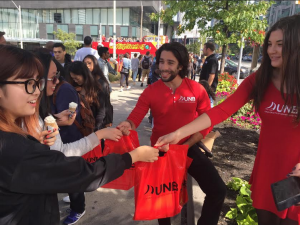 Inside the give-away bags were prospectuses for both the Fredericton and Saint John campuses and Google Cardboard goggles wrapped in UNB branding designed by creative agency DS+P. Media on the campaign was planned and executed by PHD, with PR from Embr Events.
Between Sept. 23 and 25, the UNB and PR team handed out 5,000 goggles and engaged with 7,500 students.
The campaign was the brainchild of a team of four at Toronto-based PHD working in close collaboration with UNB and looking to find arresting ways of attracting out-of-province students to the campus. That team included Sam Rowe and Marissa Robinson, who were tasked with building a campaign that could help expand the university's applicant pool.
"When we met with them, [the UNB team] told us that once people see the campus they fall in love with it," explained Rowe. With a declining East Coast population, UNB wanted to reach out to specific markets outside its region, including Ontario, to draw from a wider pool.
Rowe came up with the idea of a VR execution and the team decided to pursue it given their own experience, as well as external research on their target demo's interest in and early adoption of new technologies. The execution was possible thanks to enthusiasm and support from the UNB team, note Rowe and Robinson. As it happened, UNB had already begun work on a 360 video tour of its campus and was able to deliver with speed. The final product, which was a 3D virtual reality view of the university, takes viewers into the libraries, football fields, dorm rooms and classrooms of both campuses. 
The interaction resulted in students being engaged and asking a lot of questions, say Rowe and Robinson. Some of those questions included, "How far is the library from the dorm rooms?", "What type of programs is UNB best known for?" and "How far is New Brunswick from Ontario?"
Campaign measurement has not yet come in but UNB will be monitoring how much of a lift it receives in unique visitors to its website, as well as inquiries about its program and potential students from Ontario in March 2016 when applications are due.