Sportsnet posts record-breaking month
Topping off the most-watched Blue Jays season ever, the team pushed overall ratings for the station over the top in September.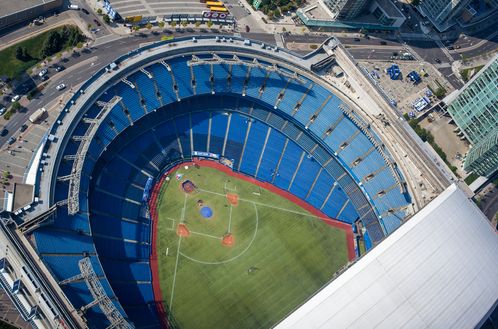 The Toronto Blue Jays have been breaking ratings records throughout the summer, so it's no surprise that this regular season has been the most-watched ever for the team on Sportsnet.
Overall the team's games saw an average audience of 973,000 viewers, an increase of 68% over 2014, the previously most-watched season on record, according to Numeris numbers from Rogers Media. In all, 57 Blue Jays games surpassed one million viewers during the 2015 regular season, with two games passing the two million viewer mark.
Radio ratings were also up, with numbers on Sportsnet 590 The Fan jumping 159% over last year.
In September, Blue Jays' broadcasts on Sportsnet delivered an average audience of 1.6 million viewers, a jump of 190% over last year. That jump also lead to a record month for Sportsnet overall, with the channel clocking its best ratings month in network history. Overall the channel had average audiences of 320,000, an increase of 114% over Sept. 2014 numbers.
Online, Sportsnet.ca had a 200% jump in page views in September over the same time last year. Of those numbers video views increased 450% over 2014 numbers and unique visitors were up 125%.
The Toronto Blue Jays start their first playoff run in over 20 years tomorrow at 3:37 p.m. in Toronto.
Image courtesy of Shutterstock