Blue Jays on record ratings run for Sportsnet
Overnight numbers for the first three games have an average audience of 2.8 million viewers tuning in to watch the playoff action.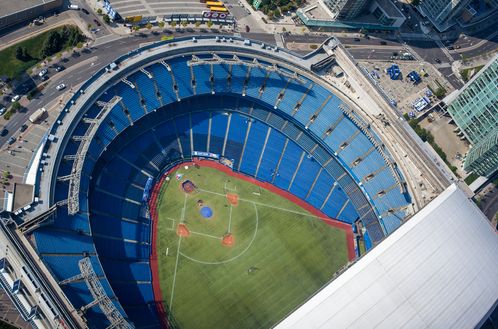 With numbers like these, you would think the Toronto Blue Jays haven't been in the playoffs in over 20 years.
The first three games of the ALDS series between the Jays and Texas Rangers had an average audience of 2.8 million viewers overall on Sportsnet, according to Numeris numbers provided by Rogers Media. Numbers for Monday's game four are delayed due to the Thanksgiving holiday.
Friday's afternoon game had an average audience of 2.4 million, peaking at 3.9 million at the bottom of the 13th inning during Josh Donaldson's at-bat, which saw both the Toronto and Texas benches cleared. Overall, 8.1 million Canadians watched some of the broadcast.
Sunday's game three had an average audience of 4.1 million viewers, peaking at 10:05 p.m. in the sixth inning during Troy Tulowitzki's three-run home run. Overall, 9.4 million Canadians watched at least some of Sunday night's broadcast.
For context, last year's game three of the ALDS between Detroit and Baltimore had an average audience of 394,000 viewers. This year's game is a 960% increase over those numbers.
The Toronto Blue Jays take the field for game five of the ALDS series this afternoon at 4:07 p.m.
Image courtesy of Shutterstock