Brands take their little turn on the catwalk
Details on activations, including why first-time sponsor Microsoft chose World MasterCard Fashion Week as the launch platform for its Surface Pro 4 in Canada.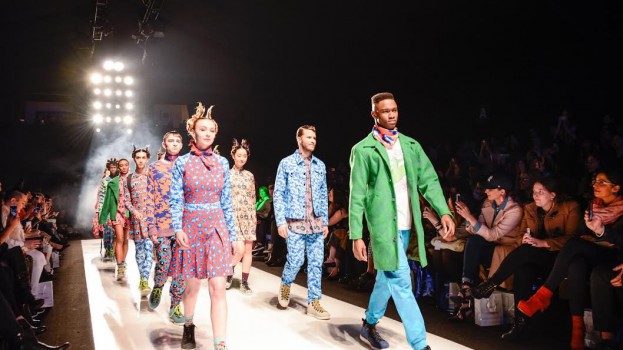 Brands from Metro Ontario to Microsoft Canada are all vying to get the attention of fashion lovers at next week's World MasterCard Fashion Week.
Taking place at David Pecaut Square on King St. West in Toronto from Oct. 19 to 23, the event expects 30,000 to attend shows during the week.
First-time sponsor Microsoft is using its partnership to launch the Microsoft Surface Pro 4 and Surface Book by creating the Surface Studio, a 10 x 20-foot space inside the fashion tent.
The Surface Studio will allow visitors to design and 3D print their own jewelry and bowties using the Surface 4 Pro. The space will also play host to a series of talks with people from the fashion industry, like Pink Tartan designer Kim Newport-Mimran, discussing the link between fashion and technology.
Chitra Anand, head of public relations, communications and corporate reputation at Microsoft Canada, says the partnership aims to show the relevance of the Surface Pro 4 to the fashion industry. Veritas, Mosaic, the Intercept Group and the Tite Group are all partners in executing the partnership with Microsoft Canada.
Mercedes-Benz Canada is continuing to support the Canadian fashion industry through the Mercedes-Benz Start Up (MBSU) program, which provides emerging designers with mentorship, editorial coverage in Fashion Magazine and a solo show at the next fashion week in March 2016.
In addition, Mercedes-Benz Canada will be putting select looks from this year's MBSU semi-finalists alongside its new Mercedes-Benz GLC 300 4MATIC. Visitors will be encouraged to post photos with the car, tagging them with @MBStartup and #MBStartUpStyle for a chance to win a Mercedes-Benz-branded Hardy purse clutch.
For the second season in a row, Disney Consumer Products Canada will sponsor the MBSU program, inviting six finalists to design and produce a look inspired by the Star Wars film series. The winner will be announced on Wednesday Oct. 21, with all the finalists' designs being featured in a Star Wars-themed fashion installation.
Janice Lau-Pearson, senior manager of franchise, Disney Consumer Products, says the partnership provides an opportunity to speak to the often-missed fashion fans of the Star Wars franchise.
Fashion week visitors will get the celeb treatment with Cadillac Fairview-Toronto Eaton Centre and Cadillac Fairview-Sherway Gardens. The shopping centres will be on hand with a CF 360-degree Fashion Cam, with each guest being sent their photos to share on social media.
Metro Ontario is on hand as the grocery retail sponsor, unveiling its first Local Food and Fashion Trend report at an event on Oct. 22.
Returning sponsors also include HSBC, Maybelline New York, Redken, NeoStrata, Cadillac Fairview, Juicy Couture, DHL, Pandora Jewellery, Rowenta, Peroni, Kim Crawford Wines, Grey Goose and S. Pellegrino.
Image (by George Pimentel): World MasterCard Fashion Week Fall/Winter 2015 Collections event in March 2015