How Rogers is reaching out-of-market NHL viewers
The media co and Google are pushing video clips of NHL goals viewers might have missed online to drive subscriptions to Rogers NHL GameCentre LIVE.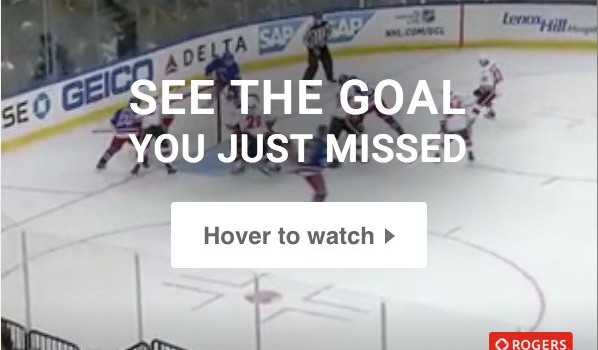 Rogers Media and Google want to give out-of-market fans goal-FOMO, creating a set of real-time video ad units showing them the NHL game moments they just missed in order to promote subscriptions to Rogers NHL GameCentre LIVE.
The deal comes out of a partnership between Rogers and Google's Art, Copy and Code division, which has been looking into finding unique ways to promote the Rogers NHL GameCentre LIVE app to potential users using programmatic and creative in new ways.
For the new ads, Rogers Media TV producers are cutting clips of goals the minute they happen on TV. Those clips are then pushed to a server and targeted programmatically, using Google's DoubleClick network, at out-of-market sports fans online. Creative in the custom display banners invite the fans to "see the goal you just missed," and when the user interacts with the ad the unit expands and shows the nearly-live 20 to 30-second clip of the goal. Users who interact with the clips will be urged to go to Rogers.com/NHL and sign-up for the Rogers NHL GameCentre LIVE app.
"This project is unique because we're taking licensed content and linking that into ad creative," says Alexis Cox, innovation lead at Art, Copy and Code. "Instead of creating original creative we are using the existing content within ads."
The video clips for the ad units, which are a global first for Google and Rogers, will be cut from three-to-five games a week from now until the end of the year. The video ad units are a continuation of creative promoting Rogers NHL GameCentre LIVE, which targets hockey fans who cheer for a team out of the market they live in, thus not being able to see the games live on TV.
Paid subscriptions to Rogers NHL GameCentre LIVE are up 108% compared with this time last year and overall users are up 58% compared to the second half of last season (from Jan 1st to the end of the playoffs). Streaming minutes are also up 40% compared with the same time last year, even when excluding users who are on free preview trials, according to  stats from Rogers Media.
Earlier this month, Anthony Attard, Sportsnet's VP of sports and NHL sales at Rogers Media, said that the media co will be adding dynamic ad insertion to the app before the end of this hockey season.