Danier warms up its winter media plan
The Toronto-based clothier has launched its biggest multi-media campaign with an eye to changing its image as just a leather brand.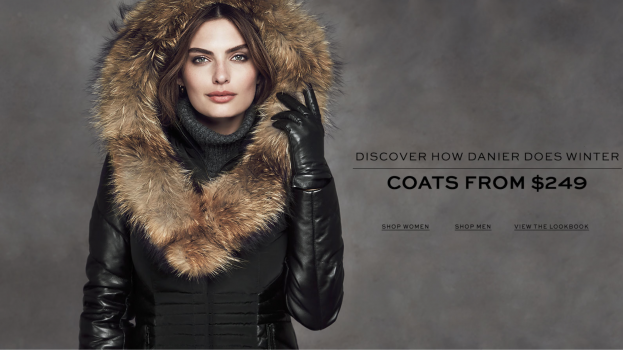 Ever since it first opened its doors in 1972, Danier has best been known as a business invested in leather. The Toronto-based clothing company now wants to change that image with a focus on its stylish-yet-warm winter wear collection that includes more than just coats.
The campaign, which is titled "Discover How Danier Does Winter" is being executed in partnership with Bell Media Sales and the company's agency of record, Toronto-based Geomedia.
"They have all these different offerings and they also also wanted to break free of that, 'Yeah it's nice style but it's not warm' image," explains Steve Muscat, group manager, Bell Media Mix.
The campaign has been developed with an aim to build brand awareness for the Danier winter collection to help consumers equate winter warmth with their coats, says Mary Law, account director at Geomedia. The large-scale campaign is focused on getting consumers to see Danier in a different light, to identify neighbourhoods most likely to have potential Danier shoppers and to target those neighbourhoods for its print insert program that will hit doorsteps around Black Friday and Boxing Day.
While Danier has bought radio spots on Bell Media assets before, this is the first multi-media campaign of its kind for the clothing company. It is also the first campaign of its kind for Bell Media Mix in which a fashion expert (Erica Wark of The Social) is so fully integrated into three TV shows.
The campaign has been timed around the holidays, Danier's heaviest sales period. About 50% of the clothier's business takes place during this time, with individual coat purchasing overlapping with the gift-giving season, says Muscat. The campaign's placement focus was on expanding the Danier reach to a wider cross-section of Canadians, according to Debbie Drutz, VP, Bell Media Mix. To that end, the media mix includes spots on TV, radio, digital, email marketing and email newsletters with integrations on a number of shows.
The collaboration kicks off this week with messaging around winter warmth all through the week, and a focus on how Danier does winter. Fashion expert Wark will tie the week's integrations together through her involvement in three Bell Media shows during the week. On Monday she appeared on eTalk for a segment on celeb looks and how to get them. On Wednesday, Wark will be on The Social giving viewers tips on achieving luxe winter warmth and on Friday she will be on the sidelines of a fashion show on The Marilyn Denis Show.
The show intergrations will be amplifying through live radio announcement feeds through the week on CHUM FM.
As part of the media mix the campaign is also being tagged around traffic, news and weather in the cities of Toronto, Vancouver, Edmonton and Calgary on CHUM FM, QM in Vancouver and virgin radio stations outside of and within Toronto.
The branding campaign will funnel into the more specific print program to drive consumers to stores and push up sales, says Law.
The winter warmth campaign will run between Nov. 2 and Dec. 27.