TSN's Off the Record impacted by Bell cuts
The show will be rolled into SportsCentre in 2016 as news of departures, including Ottawa's CTV News co-anchor, is released.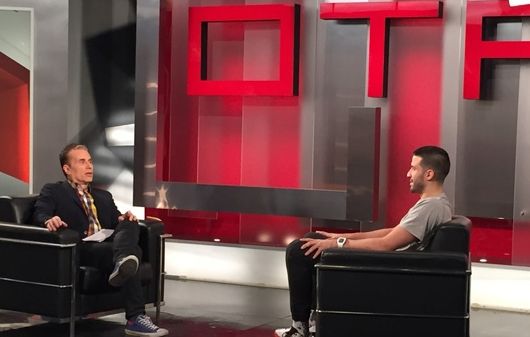 The impact of the latest round of Bell Media cuts is being felt on one of its longest-running sports programs, as TSN's Off the Record (OTR) is set to end its long-standing 30-minute format next month.
Beginning in 2016, the half-hour daily show, which had been on TSN for more than 18 seasons, will instead be featured as segments rolled into the channel's flagship program SportsCentre, according to a post on the channel's website. The segments will also be shown on TSN.ca and across the brand's social media channels. The last day of production for OTR will be Dec. 18.
"After more than 18 seasons I believe the time is right for both me and the show to evolve," wrote OTR host Michael Landsberg in the post. "What I love most in TV is the chance to take risks – to do things that haven't been done. I'm glad to say I will have that chance, as we create a new version of OTR. OTR has been Canadian sports TV's most polarizing show. So, sadly, to all those that think they're free of me, I say: 'I'm not done yet. Makeup please.'"
Bell Media would not comment on the number of jobs impacted by the programming change.
Also impacted by the current round of cuts is Ottawa's CTV News co-anchor Carol Anne Meehan, who confirmed her departure to the Ottawa Citizen. Meehan had been with the station for 27 years.
Bell Media-owned Ottawa station 580 CFRA News Talk made cuts to its staff, with on-air personalities Rick Gibbons, Shelley McLean and John Brenner let go, along with engineers, producers and sales people.
Yesterday a memo from Bell Media president Mary Ann Turcke confirmed that previously announced cuts would take place "building-by-building" over the course of November.