TheScore breaks news with Miller-sponsored OOH
A sponsored-content partnership between companies sees real-time breaking news on transit shelters in Toronto.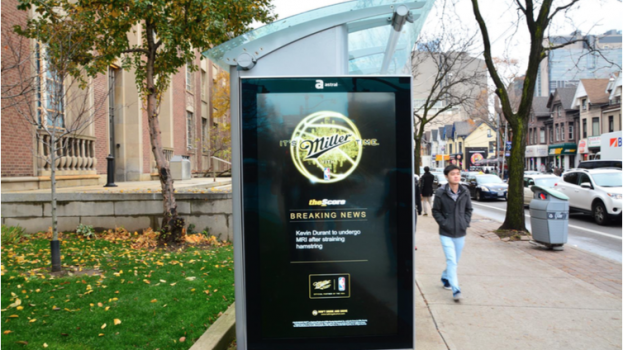 Torontonians waiting for their ride in transit shelters will have something more do than focusing on keeping warm. Starting this week and continuing for four weeks, commuters in the downtown core will see Miller-beer-branded breaking news sports updates flash on digital transit shelter screens.
The execution is the result of a novel partnership between Miller Genuine Draft and sports content producer, theScore, for which PHD executed the media buy and Toronto-based ad agency Me&Lewis worked on the creative.
Powered by theScore's mobile app, the screens will carry realtime sports news, with each headline running for eight seconds in between brand messaging that signals "It's Miller Time." TheScore's content team pushes 50 to 100 stories each day and dispatches them to the server.
The out-of-home execution is the first of its kind using digital out of home for theScore, which is a mobile-first sports publisher with an audience of 10.5 million monthly users. The company was also the sole mobile launch partner for the beer brand.
Geoff Glen, sales director at theScore said the suggestion for the strategy came from PHD, which executed the media buy for the brand. "We were doing a lot of sponsored content with them, and we were wondering, 'Is there a way we can do this in a different way?' We are in the business of providing utility to our users, so extending the brand in the OOH space made sense."
The idea for the campaign was partially influenced by how other brands (think Ritz to Go and Reno Depot's paint campaign) were playing with the digital technology, says Andrew Young, account supervisor at PHD. "This was a unique way of getting into market and notifying Canadians about useful content while building brand association."
As the exclusive sponsor of NBA content on theScore, MGD didn't want to be only silo-ed within the push notifications and breaking news space on theScore's mobile properties. Placement in 40 downtown screens worked well, says Young, because the location and the feel was endemic to brand value. "It's a premium beer and its about urban energy and the digital TSAs were a great complement to that."
The third party digital out of home campaign is a four-week experimental blitz that works alongside the brand's year-long partnership until and during the playoffs. 
The PHD team is still working on defining best practices for campaign analysis.