Looking ahead: Canadian media trends to watch for in 2016
The consumer and market trends to look out for in the new year, according to e-Marketer analyst Paul Briggs.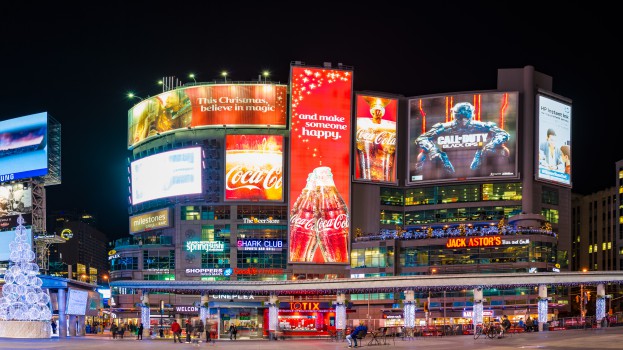 The new year is practically upon us so it's not surprising that as we take stock of how this year fared for the media world, we also hear from a few forward thinkers charting out what may lie ahead.
Marketers will be making the most innovative use of technology as they redirect media spend to match the changing habits of their consumers, according to Paul Briggs, e-Marketer analyst, who presented the findings from his crystal ball reading at the Interactive Advertising Bureau Canada's annual metrics meeting on Friday.
Briggs identified six marketer trends and four consumer trends to look out for in 2016, with the "the internet of things" (or non-human sources of connectivity like smartphones, Apple watches, sports wristbands, etc) leading his listicle on the marketer side. In 2013 there were 28 million IoT connections in Canada; by 2018 IDC anticipates there will be 118 million.
Also, virtual reality executions have been on the rise this year but haven't quite hit the mainstream. That will change in 2016, according to Briggs with VR and 360 video being enlisted as yet another form of storytelling.
Another area of projected growth is the digital out-of-home industry where location-based data has allowed marketers to connect with consumers in real-time. Briggs quoted a Magna Global June 2015 report estimating DOOH in Canada to have grown by 19.7% in 2015, with predictions for a further 11% growth in 2016.
Retailers have focused on beacon technology in some shape or form across the globe, with close-to 30% of all retailers worldwide experimenting with the tech – in Canada that number is estimated at 12%. Briggs said that in 2016 marketers would be able to use first-party data collected through beacon technology to get more accurate information on their consumer base.  
Programmatic will charge ahead in 2016 with 58% of total display spending being bought through programmatic channels. And by 2017 more than $1 billion will be spent on mobile programmatic making up 67.9% of all programmatic digital display ad spending.
2015 was the year of CASL with major Canadian companies, like Rogers Media being fined for violating the anti-spam law. In 2016, Briggs estimates that e-mail marketing, which suffered a wobbly year on account of CASL enforcement, will return.
On the consumer side of things, the growth of mobile will continue. In 2016 more than 25% of all time spent on media will be on mobile. That experience is enhanced by the growth of other connected devices like wearables. An IDC estimate estimate that there are about 1.5 million wearable devices in Canada – by 2019, Briggs believes that number will balloon to 3.6 million.
Unlike the CMUST report, which predicts that cord-cutting rates will shrink because of the introduction of pick-and-pay, Briggs noted that the availability of many streaming options for TV and more – Netflix, Shomi, Crave and Spotify, for example – will lead to continued cord-cutting. A Futuresource Consulting report released in August 2015 showed that Canadians are advanced streamers, coming second on a global list with 30% of streaming device owners consuming content on their devices daily. In the absence of addressable TV, streaming devices also provide marketers with better targeting capabilities for their campaigns because of consumer registration data matched with IP address-sourced consumption behaviour.
Finally, the last consumer-side trend to watch out for is the growth of voice search mobile. Investment in mobile search advertising in Canada will surge 55.1% in 2016 to pass $1 billion.
Image courtesy of Shutterstock