Spotted! Hallmark spreads the love
The company took to the streets of Toronto this weekend to get consumers up close and personal with its cards.
While gifting is a growing business for Hallmark, cards remain the main revenue driver for the company, so it needs to make sure people keep giving them.
Making people aware of its products during this festive season was the goal of this weekend's Toronto activation, where the card co had a pop-up activation around the city that allowed passersby to write out and send complimentary greeting cards to friends and family. By following @Hallmark_Canada and #LoveHallmarkHoliday, Torontonians were able to locate the pop-up, choose their free cards and pop them into a mailbox to be delivered before Christmas.
With activation work from JamVan and public relations from Veritas, the execution was live in high-traffic areas like Bay and Wellington, Queen and James and the St. Lawrence Market.
Kareena Kanhai, brand manager, national advertising at Hallmark, says the activation is part of a push from the brand to get its products in front of consumers and engaging with them.
Last spring the company hosted a calligraphy event to get people writing and in September it had a booth at Fan Expo in Toronto, both aimed at letting millennials interact with its products.
"The way consumers are looking for and absorbing information has changed, it's about Hallmark adapting to consumers," she says. "We're always looking to reach consumers that might not normally go into a Hallmark store.
The activation saw visitors to the mobile pop-up sending about 1,300 cards to family and friends across the country.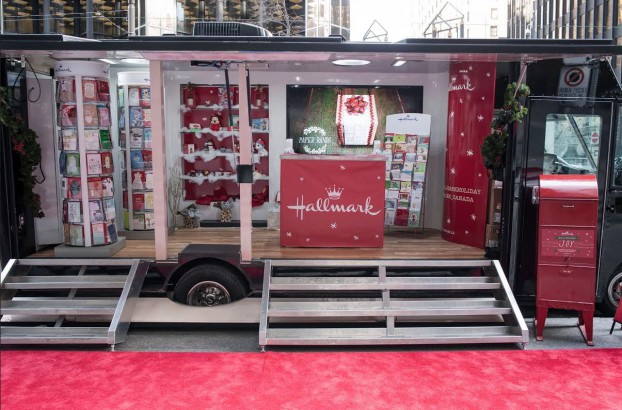 Photos by Evan Bergstra