Spotted! Campbell's soup-kitchen pop-up
Aiming to target a younger demo, the CPG brand has landed on Toronto's Queen St. W with a pop-up custom soup shop.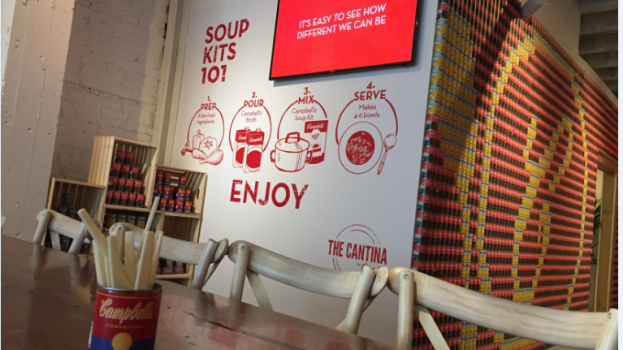 The Queen-Spadina area has a new short-term resident.
For three weeks, Campbell is inviting Torontonians into a space called The Cantina by Campbell's on Queen Street West to sample a range of culinary soup fixes put together using its ingredients, under the directorship of chef Matt Dean Petit.
A campaign for the pop-up, which was developed by The Mint Agency and Chalkboard Marketing, with a media plan by OMD, focused on a digital and social buy on Facebook, Twitter and Instagram. The brand targetted people in the GTA. Additionally, how-to videos with chef Petit are also on its website.
Laid out in a large open-concept space, the Cantina is set up to supply more than just soup. The idea was to create an experiential campaign for the brand by drawing hungry shoppers and office workers into the pop-up to watch chef Petit fire up four soups inspired by different cuisines, says Melissa Mendoza, marketing lead for Campbell's.
The effort is also aimed at growing Campbell's base among younger Canadians as Mendoza says the brand over-indexes with an older demo. By the end of the pop-up experiment, Campbell's hopes to have exposed 15,000 people to its soup-making collection.
The brand specifically chose February – "soup season" -  and chose an intimate pop-up concept to get away from the more crowded TV, digital and video space, says Mendoza. The Cantina is an extension to an existing marketing plan that also includes TV, digital and social components.
The soups, which are complimentary, are aimed at reminding Torontonians that Campbell's is a hip brand that is with the times, says Mendoza. "We wanted people to consider us in a new way and in a cool way, and there is a cool factor to be in the heart of the city."
The effort is also aimed at expanding the brand's cultural reach. "Soup is in every country and in every culture," explains Mendoza. In keeping with that, Petit will be developing a range of four soup flavours: Thai chicken and rice, spicy veg ramon, a black-bean taco soup and cream of chicken. 
The campaign is built around introducing them to Campbell's new soup kits. Visitors to the shop receive complimentary kits. 
Another interactive dimension of the soup shop is a mosaic wall where visitors will each place a sticker to create a larger pop art piece. The brand is encouraging guests to take selfies against the wall art to share on social platforms and it is will also contribute a can of soup to the Daily Bread Food Bank for each sticker pasted.
The pop-up store is at 501 Queen Street West and will disappear on Feb. 21.