The Big Picture: Twitter's Rory Capern
The former Google exec looks to grow the platform's Canadian presence and expand its role as a testing market for new executions.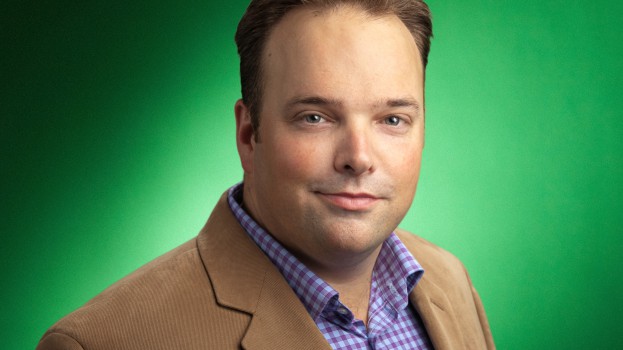 Twitter threw Rory Capern quite the welcome party, pulling out the red carpet with a visit from a growing Canadian celebrity. You guessed it: prime minister Justin Trudeau stopped by to tweet out some shareable bites on his 100th day in office, marking Capern's day 001.
In an interview with MiC, Capern says he's excited about the opportunity to grow Twitter in one of the San Francisco-based company's most advanced digital markets. In the newly built, open-concept, L-shaped King St. West office, the former Google exec, who moved into the role in January this year, says he's working on establishing Canada as a testing ground for products and executions.
"We have great conditions for innovation here," he says sitting in the office's library-cum-living room, where a range of unrelated but fascinating titles (Gandhi by Ramchandra Guha, Freedom by Jonathan Franzen) decorate a sparse bookshelf. "Twitter [and other companies of our size] are probably never going to be as large from a revenue perspective as our American cousins are but we can be a lot faster and more innovative and that dynamic is very valuable to global HQ."
Capern says local partners can benefit from trials with new products, and then those "learnings can be shipped to other markets."
The former Google exec takes over just as Twitter faces growing criticism for its failure to grow its user base (and hence dividends for its investors). Excluding SMS fast followers, user numbers not only stagnated, they actually fell from 307 million to 305 million between Q3 and Q4, 2015.  Moreover, since Jack Dorsey, co-founder of Twitter, returned to the company last year, stock prices have plummeted.
The critique isn't wholly fair, however, given the nine-year-old newbie's steadily rising revenues. Its year-over-year revenue for Q4 was up 48%, at $710 million; $641 million of that was from advertising.
Twitter won't break down its statistics so it's not clear where Canada fits into that big picture. The company says 40% of Canadians (10 to 12 million users) connected to the internet are regular Twitter users. Overall user growth concerns don't bother Capern who says he took a good look at the company's financials – and the Canadian market – before deciding to jump ship from Google.
"Twitter is looking at its cash burn in centuries – I think the number is 412 years, which is the ability to maintain operations at the scale we are today with the cash that is in the bank."
At the close of last year, Twitter hired former Olive Media exec, Ray Philipose and charged him with its growth portfolio. Collectively, Capern says, they will "refine Twitter's take-to-market," which he says comes with the "enviable task of refining the definition of Twitter," a statement that brings a big smile to Capern's face.
"Refining" Twitter is ultimately the challenge that execs are working on as they respond to the needs of their investors (grow, grow, grow) and square that with advertisers' demands (greater reach, products that expand and explode on social networks).
Before starting in his new position, Capern was flown into San Francisco to participate in Twitter's annual leadership conference where execs hash out strategies for tweaks to the traditional model (among other things). What Capern took away was Twitter's focus on "live culture." Moving forward he says the company will "continue to refine the live aspect of Twitter, the aspect of the service that makes it so electric, so unique and valuable to people."
But as Twitter execs likely know, the tweaks and fiddles are a gamble in the fickle world of consumer platforms. As it strikes a path for growth, the company has to balance the demands of its core users with those of its advertiser community.
Capern notes 24 of Canada's top 25 brands advertise with Twitter already. According to Nielsen stats shared by Twitter, 69% of its Canadian users are tweeting off their phones. And in 2015, half of Twitter's audience in Canada belongs to the wide-ranging millennial demo (16 to 34 years of age). Capern also marks video as an area of high growth, noting that 76% of Canada's Twitter users consumer video on the social platform, with almost a quarter of that number doing so everyday.
The company has made a ton of tweaks lately responding to critiques that the platform is more user friendly for celebrities, news hounds and brands than for ordinary Joes confused by the business of hashtags and .@s. This year the company added live video broadcasts through Periscope, with brand executions in Canada like one with Delissio Pizza on National Pizza Day last week. That feed of pizzas being made had 4,000 total viewers and 185 video replays before it was zapped into oblivion 24 hours after being posted.
Periscope executions build on Twitter's "live connection" message. And that focus explains its early 2015 acquisition of New York-based, Niche, which manages a portfolio of over 26,000 social media personalities. Niche provides brands opportunities to work with the Twitterati to expand their messages, not only on Twitter but also on other social platforms like Facebook and Instagram. Prior to this purchase the company was unable to monetise those assets through Vine, its video-sharing app.
One other area of "refinement" is product tweaks. Private messaging has expanded beyond the 140 word count, while plans to apply that change to public tweets remains under discussion. All timeline-based changes like the newish "while you were away" adaptation is built, says Capern, on analysis of user behaviour from the company's first-party data.
Capern says he's ready for the challenge of growing Twitter, something he did while he was started off at Google five years ago. The roomy office is sparsely filled for now. It can fit 100 staff but 37 currently have their bums on seats.
We look forward to his tweets after his first 100 days in office.